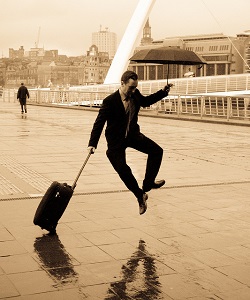 I am finding that in my role I am traveling more and more on a monthly basis. I am becoming increasingly aware of these costs for the company I work for.
Businesses everywhere must find new and different ways to slash costs if they want to survive in today's economic climate.
Gone are the days of reckless business travel for huge numbers of executives at the drop of a hat!
Well, for most of us anyway. But it's vital not to lose out on business travel when it is necessary.
It can be the difference between making a certain sale or retaining business. In the days of video conferencing, Skype and instant messaging, it's still important to remember that the personal touch can mean the difference between a good business and a great business. Click Here to Read Article …