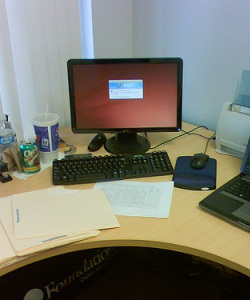 Has there ever been a time when you couldn't get your work done because of a messy desk? We all hope if we could get our desk tidy at one point or other. Whether you work at the office or in your home, an untidy workspace always kills productivity just as a tidy desk leads to a boost in it.
I was once able to write only in cafés. I loved the experience because I had my favorite drink, Wi-Fi access and most of all, a nice clean wooden table all to myself. Many people told me they found it quite an expensive way to write and work. Though I understood their reasoning, I'm sure a lot of people would understand my preference once they saw the appalling state my work desk at home was in.
It was a huge mess! Papers, electronic cables, books and DVDs were scattered all over my desk. Working with a desk like this was a real efficiency killer. How could anyone work when there was barely enough space for your laptop or PC?
The lack of space wasn't the only problem. I tried working on the bed in front of my desk, but the sight of the mess was a huge distraction. Seeing it made me think of other tasks that I had to do, which included organizing it. Click Here to Read Article …
Popular search terms for this article:
tidy desk, desk tidy, how to keep your desk tidy, how to make a desk tidy, how to keep a tidy desk, how to keep desk tidy, how to tidy your desk