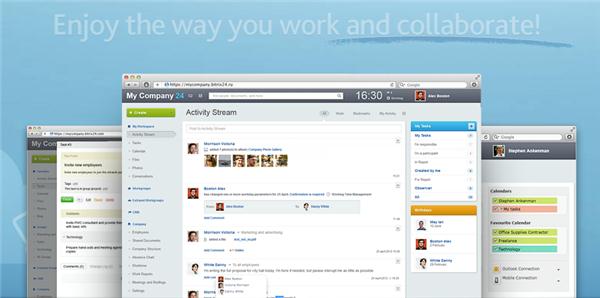 Suppose you are given a difficult assignment in the Monday morning meeting: Increase sales from an underperforming sales channel, for example. This will require forming a small team, research, creating new materials and methods in a work flow, running live tests, and presenting results. A very natural question may arise: How am I going to survive till Friday?
A useful tool on your path to Friday would be a new breed of business software — a social intranet. Implementing this instrument using cloud-based collaboration, getting to Friday will be easy and look something like this: 
Monday – form a team
First of all, a can-do attitude is needed. This crucial when you're forming a team. In a social network, you can find the team members you need searching by departments, by project group, by skills, or other criteria. Form a workgroup and invite the people you need. This group—let's call it SSG—has its own set of tools such as file sharing, tasking, calendars, etc., and new members can be added any time.
Tuesday – define tasks
In a robust social intranet, you can use the meeting manager feature to transform the agenda points of Monday's meetings into both tasks for the participants and points for the next meeting. Inside the SSG group, a Gantt chart can be used to show the relationships among the various tasks that need to be performed.
For example, if Mary needs information collected by John before she can start contacting a test group, she can view Henry's task and make comments to be sure that she will receive actionable information on time. It is much easier for everyone to stay on the same page with the transparency offered in the SSG group, and that means fewer time-consuming face-to-face meetings.
Wednesday – research, analyse the problem and find a solution
Social in the phrase "social intranet" isn't the same as in the phrase "ice cream social". Social is the way to harness nature behavior patterns to do productive work. The distinctive parts of a social environment are an activity stream which keeps each user aware of relevant events and activities; ease of giving feedback either through "liking" or quick commenting on any object (e.g. files or posts); and the ability to post in multiple places without duplication, among others.
Naturally, the social capability needs to cover all the business tools which are in use company-wide. The CRM, file storage, knowledge base and other tools need to be unified inside, or at least integrated with, the intranet's social layer. In our case, SSG can benefit by being giving needed access permissions to the CRM as a single group.
The sales leads from underperforming channels can be collected and analyzed from the CRM. Observations and trends which emerge from that analysis will be the starting point of the brain-storming discussion to determine how best to invigorate the underperforming channels. This brain-storming can be handled in discussion thread in the group.
Thursday – test live and gather results
SSG members then go about creating the phone pitches, emails, and other materials which comprise the supplemental processing. Tasks to contact leads are standardized in task templates and can be assigned directly from the CRM, so recruiting sales representatives to contact targeted sales leads is greatly simplified. Each task can be assessed positively or negatively for each lead contacted and the automatic task reporting will provide quick snapshot of the results of live testing.
Depending on the depth of feedback from the clients needed, an extranet workgroup(s) can be created to which leads can be invited to participate more closely. Extranet groups have the great advantage of full social interaction, but the safety of an external space partitioned from internal data. No external users will have access to objects outside of the extranet group to which they belong, and even inside the group, access can be limited so that some objects are not visible to them.
Friday – show results
Transparency in the work process, enabled by the social intranet, is helpful both while the process is going and in assessment after the fact. Extensive integration across functional units such as the CRM and extranet, along with comprehensive search, means that it is possible to drill down into the tasks, discussions, and other details that influenced any given action.
By meeting time Friday, not only can you produce the required deliverables at the meeting, from analysis of the underperforming channel to new task templates designed to increase their yield, but you will have a log of the interactions involved and a reproducible action plan for upcoming assignments.
How do you manage your business or team?
Featured photo by DepositPhotos.
Popular search terms for this article:
Powered by Article Dashboard work from home business success, Powered by Article Dashboard business writing class new york, Powered by Article Dashboard discussion, Powered by Article Dashboard working from home, Powered by Article Dashboard new york times, Powered by Article Dashboard line, Powered by Article Dashboard start a business, Powered by Article Dashboard working at home, Powered by Article Dashboard line photography, Powered by Article Dashboard send money