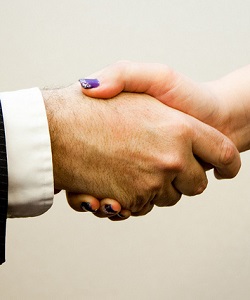 I grew up with a group of brilliant and strong women all around me, but they all struggled with something I think a lot of people deal with — they could not negotiate. And neither could I.
My mother's a professor with a science Ph.D. One grandma was a doctor in the 1940s. Her sister was as well. An aunt had been a dentist in the 1910s in Minsk.
My sister went from a fashion background to an MBA and business ownership and quickly learned the ropes.
I married a brilliant and strong woman who negotiates like second nature — and for pay, to great effect. The contrast, in some ways, could not be stronger.
The pain — tears from being passed over for promotion, for an increase, slights (perceived or otherwise), the silent anger and resentment due to words or acts by bosses who were inevitably all male — still sting today.
How could it be? I work SO hard! I know I am the smartest and best worker with the most ideas and publications, plus the most industrious of all of them — and still this.
And as a boy, all these aggressions were magnified. The women in my life had lived and managed through the hell of Soviet Stalinism and anti-Semitism, the compound stresses of an emigration and assimilation, plus divorce and worse.
How could it be that in America, the land where all of us are equal, they had lost their voice? Year after year, month after month, I was frustrated by the evil men I hardly saw.
Uncover Hidden Scripts
As for my own development, it took big system shocks to get the ship to sail upright and straight. I didn't learn negotiation from my law school studies or from years in finance. It didn't magically absorb from reading business books or blogs.
It took unpacking baggage from my childhood — with all its Soviet Jewish norms of culture and behavior — to uncover all the hidden scripts I had controlling my existence from afar. Selling was stigma, self-promotion being the lowest form.
Negotiation was beneath us — shameful commercialism. We were too cultured, too polite, for that. We suffered silently as martyrs but upheld ideals and moral rectitude. The world was turned against us and we couldn't trust anyone.
But I also started seeing the benefits of asking for a better price, of asking for a better starting salary and title, of making small talk to ingratiate myself, of doing research on the person I was dealing with.
These were the sorts of small "infringements" I'd found so dastardly before. Once I had called a spade a spade, I'd had enough of martyrdom and misery.
In my wife's culture, bargaining's like hygiene. If you don't practice it, you're shunned and disrespected. The paradigm of shame is quickly turned up on its head.
If you don't bargain and negotiate, you'll be a failure, plain and simple. With this in mind, how can I possibly abstain and stay behind? For what? To please a set of vague ideals? No, thanks. Now, where's my discount?
Practice Negotiating in Any Way
At first, to bargain was as pleasant as a kidney stone. I practiced in a market in Morocco, then in Israel. It worked! Success begat success, and I got bolder.
Soon — unemployed — I dared to bargain for a higher starting salary with my new boss. I brought the facts and numbers to the table and firmly asked for $10K more, plus changes in the contract. Next thing I knew, I got exactly what I wanted!
Another time, I turned a contract role into a full-time gig (with benefits, 401(k) matching, paid cell phone and more) with one quick call directly to the CEO. As it turned out, he is a masterful — and merciless — negotiator. I learned a ton from working with him and then negotiated huge discounts on rent and software for the company.
Another factor is necessity, that mother of invention. When you have student debt the size of icebergs and you call Manhattan home, you quickly start asking always for a better, cheaper, faster way to do things — NOW, not later, not tomorrow.
The Answer Will Often Be "Yes"
The urgency takes hold of you and steels your confidence. Why not? If you don't ask, the answer's always no.
Quite often, actually, you get a yes. This may be because others have an expectation bias and have already committed to the cheaper sale. Maybe the person has the mindset that negotiation is a sin, just wants to let go and wash their hands of it.
With salary and benefits, there's often extra money budgeted for you. A title can be fungible, depending on the context. When making deals with vendors, you do often find more leverage in unexpected places.
Ask, and you often will receive — some extra benefits for cross-promotion, a strategic partnership or other smart win-wins. It is your job to be creative.
Stop Believing Negotiation Myths
It is a fallacy, assuming always that the other side won't budge. You'll often find that humans are just human in the end. They often want to please, be nice and helpful to you, but you have to ask.
It's also foolish to keep thinking that to bargain is unprofessional. Think of it as a trial project for your boss. If you can stand up for yourself and bargain with him, then you're showing:
Confidence
Business sense
Thoughtful preparation
Interest
If these are not the very traits your boss is looking for, then don't go work for him!
Winning Negotiation
The key to winning a negotiation is an understanding of terms of business and in yours and others' motivations and desired results.
First, know exactly what you're worth to bosses, vendors, clients. Do research on your market, the true price and markup. Ask people in the industry.
Be bold, take risks — but do it smartly and with preparation. The boundaries when making deals are often far beyond your mind's own limits on yourself.
Take paper and a pen and write down what you want to get across. Note your thresholds and stick to them — the more specifics and real numbers, the better.
Now, find a partner who you can practice with beforehand. Ideally, this is a friend or spouse who's been a boss or vendor rep or business owner and a devil's advocate.
You want someone who's people-savvy, observant and experienced, with sense of body language and your weaknesses and strengths. Get him or her to tell you how you come across.
After this, work to fix the problems your friend has pointed out. Then, go in and get what's yours.
Develop the Negotiation Mindset
The negotiation mindset, when compounded daily, weekly, monthly, yearly, has a tremendous upside. Practice negotiating in your everyday transactions — at your grocery, your coffee shop, on Craigslist.
Find coupon codes online, use Amazon to check for the cheapest price. Once you attain this mindset, you will find that others cannot take you for a ride. You sniff out scams and don't fall prey to marketing so easily.
Granted, it can be daunting at first to speak up and to overcome your limitations, but immensely powerful. You're losing absolutely nothing in the back-and-forth and often winning self-respect and boldness to achieve much greater things.
Know what things really cost. Set concrete terms. Be confident. You will be shocked how often you will win.
After a while, negotiation is a pleasure and a habit, much like brushing your teeth. The only things you have to lose are misery, frustration and your own stumbling blocks.
The money in your pocket and a healthy sense of self are great fringe benefits as well.
Don't Leave Money on the Table
With this in mind, it is imperative for women (and men) to bargain and negotiate. Ten thousand dollars left on the table now can mean $500K abandoned over a career.
A lower title can slow one's growth and progress by a magnitude. Take ownership of how you come across to bosses and executives, as well as business partners and your clients.
Often, the very thing you dread (negotiation) is precisely what the other side is looking for. In other words, you often can't afford NOT to negotiate this time and every other time.
Do all the hard work now. Then practice, practice, practice, and you'll reap the benefits immediately.
Now, to get back to all the brilliant and strong women in my life. Among them are war journalists, executives, top scientific experts and consultants, engineers, high-end lawyers, bankers and VCs, product managers and others.
Time after time, I've heard how in "The Talk" with Mr. Boss, Executive or Client, they just freeze.
Meanwhile, males with worse degrees and grades, work ethic and experience would leapfrog them, negotiate and win big salaries, promotions, titles, contracts, deals. They did all of this despite appalling manners, sexism and a nauseous basket of fraternity behavior.
Stand Up for Your Worth
Over the years, these women have turned to me with their frustrations about men at work — male managers, executives, etc.
How much frustration, tears and disappointment (and time) could easily be saved through simple training and unpacking baggage, plus a little research? Hundreds of thousands left at the table, better titles, better lifestyles, plus a sense of worth and fairness?
Ladies, lift up your heads! There's nothing alpha-male, shameful, risky, or arrogant about acknowledging your true worth and sticking to it in negotiation. Like all good things in life, it takes determination and a plan.
If you don't change, you will forever be a slave to your own doubts and hidden scripts. It is a heavy — and unneeded — burden.
If (and when) you do, the world is yours, no matter if your debt or unemployment or the other circumstances seem to hold you back. To paraphrase Hillel the Elder, if you don't stand up for yourself, then who will stand up for you?
And being yourself, who are you if not for yourself? And if not now, then when?
(Photo by Flazingo Photos / CC BY)