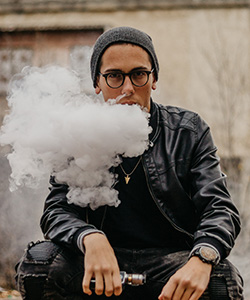 Quitting smoking is among the top New Year's resolutions, but is very difficult to do. It often requires many attempts and types of strategies. Vaping as a whole has many benefits for those that want to kick the cigarette habit. With their cost-effective platform, options for nicotine levels, and various flavors, the vaping industry is booming with possibility. Additionally, you can find certain effective ways to get to your goal of changing this habit, ultimately finding success. 
Cost Efficiency
One of the biggest perks of switching to vaping is the cost efficiency. While there are many ranges from inexpensive to expensive options in vaping devices, these devices can be sturdy and last much longer. Starter kits also provide everything you will need. With most startup kits you will receive two coils, the tank, and the mod. Some mods require batteries while others can be charged via USB. If you decide to go with a mod that uses external batteries, you will want to get an external charger and keep an eye on the state of the battery itself. If the wrapping starts to wear, it's time to replace it. With that said, you can also get a mod that has an internal battery with USB charging capabilities. The choice is entirely up to you.
One option you will see is a mechanical mod, which is catered toward a more advanced user. Instead, you will want to focus on a starter kit that is regulated, where you don't have to focus on changing the wattage and ohms. There are safety features included in regulated mods that will select wattage and ohms based on the coil used. Simply place your tank on the mod, add your juice of choice, and start vaping. The average user can spend as little as $35 a week on juice and coils since you only change the coil when the juice starts to taste burnt.
Flavor Options
There are many options available in flavorings. With the inclusion of tobacco and menthol flavors, you can also choose between fruit, dessert, candy flavors or a vape juice box. If you want it, it's probably out there. There are generally three ingredients in these mixtures including PG propylene glycol, VG vegetable glycerin, and flavorings. Of course, nicotine is also an ingredient if you choose to go that route. Whether you prefer the original tobacco flavors or want to get away from it, there are many options available to you.
Nicotine Levels
Nicotine levels have much wider options in the vaping industry as well. With salt nicotine and liquid nicotine, people who are looking to switch have options available to them. Salt nicotine has higher levels of up to 100mg. Salt nicotine also allows for a smoother throat hit and can be used with lower wattage devices. Oftentimes salt nicotine is used in pod-based systems, of which come pre-filled with the e-liquid. Freebase nicotine come in levels of 0mg, 3mg, and 6mg, and can go as high as 36mg. With these alternatives, you can start off at a higher level if you choose and move towards a 0mg and ultimately kicking the nicotine habit. The FDA also regulates the ingredients involved in the e-liquid creation process, with the nicotine levels in mind.
The options for kicking the cigarette habit through vaping are endless. With choices in cost-effectiveness, flavorings, and nicotine levels, the possibilities are abundant in helping to get a person to their ultimate goal, ridding themselves of a bad habit. While the process of switching from cigarettes to vaping can seem overwhelming, vaping as a whole has a wide array of people that can help you come to an informed decision on what is best for you. With FDA regulations in place, highly informed shop owners online as well as in your area, and a vast community that backs the movement of vaping from smoking, you will no doubt notice that any questions or concerns you may have will be answered quickly.