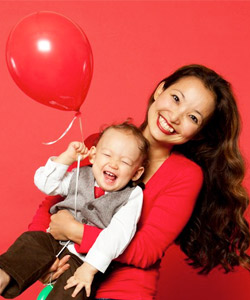 Hi Work Awesome!
My name is Tina Su. That's me on the right. The little smiling boy I'm holding is my son, Ryan.
I'm the proud new owner here on Work Awesome. I just wanted to spend a moment to say hello and to introduce myself.
I am a writer, a photographer and a mom. I live in Seattle with my husband Jeremy, our son Ryan and our fluffy dog Tommy. I am Canadian from Toronto. I was born in Beijing, China.
I used to work as a Software Engineer for amazon.com, and later as a User Experience Designer. Somewhere along my cubical existence at amazon, I became obsessed with the topic of happiness, productivity and personal motivation.
In 2007, I began writing on these topics, sharing the life lessons I've learned on my blog–Think Simple Now. In 2008, I left my fulltime job to focus on my blog, thus transitioning into my new career as a professional blogger and online publisher.  This is what I do today.
I am passionate about many things: helping people lead happy lives is at the top of that list. And I am extremely honored to be able to oversee the direction for Work Awesome. I really want to maintain the current publication quality, and directing it such that the site continues to be a valuable resource to help you work happily and productively.
This site is about you and I am committed to creating the best experience for you. As such, please take a minute to tell me what type of content will make you happy via this quick survey.

More Personal Stuff
Besides being passionate about my family, and writing. I am also passionate about photography. I wrote about my journey to becoming a pro photographer here: Dreams Come True. I am also passionate about Apple products.
My husband is a commercial photographer and he teaches me all the technical things that I never learned as a self-taught photographer. Jeremy is also an aspiring filmmaker. We hope to put up many more videos with motivational content later this year.
Our son Ryan is 16 month old. He's very active and curious little boy. He gets into everything he's not supposed to. His favorite word is "Ba!!" and his best friend is a toy bunny.
I'm currently focused on finishing a book on Life Purpose.
Perhaps the best way to get to know someone is through reading about the thoughts closest to their heart. Here are some articles I've written in the past that you may enjoy:
Here are some popular articles written by one of the passionate and talented contributing authors on Think Simple Now:
Elsewhere Online
New Editor
I wanted to introduce to you my friend Pooja who helps me run Think Simple Now. She will be leading the publication on Work Awesome and will be helping me to keep this site even more awesome and beautiful.
Interestingly, Pooja also used to work as a Software Engineer before pursuing her love for writing full-time (perhaps that's why there are so few women in engineering—writing took them all!).
Pooja lives in Melbourne, Australia. She blogs at Of Parchments & Inks.
Mike Vardy is still part of the team and will continue to lead the awesome podcast.
How Are You?
I'd love to know you better. Please leave a comment below to introduce yourself (completely optional, of course. But I'd be happy if you do).
Suggestions, ideas, thoughts? Leave them in the comments below. I will see you there!
If you haven't already, take a minute to fill out this short survey.
Thank you for taking the time to get to know me.
Nice to meet you!
Warmly,
–Tina
Popular search terms for this article:
Tina su, tina su blog, SiteNews|WorkAwesome, tina su toronto writer