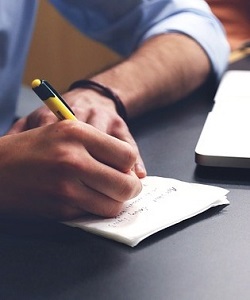 Here's a fact — more and more employers ask for cover letters from their job applicants.
And here's another thing — most job seekers quit applying to posts asking for cover letters.
They do this for several reasons.
Some don't know what and how to write, some don't want to invest the time, and others are just lazy.
If you are not part of the quitting category and want to try your best, here are seven useful tips on how to come up with an impressive cover letter.
1. Don't Repeat Aspects of Your Resume
The cover letter should be regarded as an opportunity to give more specific details about your working experience and responsibilities. So don't waste it on repeating the same things you've already mentioned in your CV.
Instead, state how each job has improved your skills and how each position has contributed to your professional development. In the end, point out why you are a great and appropriate candidate for that certain position.
2. Emphasize Your Strengths
In order to stand out from the crowd, create a special section of the text dedicated to future career plans. This tells a lot about a person — it showcases his/her ambitions, dreams and willingness to make professional effort.
After this, continue by mentioning several actual things you could do best from the position offered of the company. Managers like individuals with clear visions and committed attitude.
Speaking of strengths, candidates often make a big mistake by apologizing for lacking some specific skills required by the employer. But why should one draw attention toward the negative aspects of his resume? Instead, emphasize several transferable abilities and stay enthusiastic about the position.
3. Use Testimonials & Recommendations
If the colleagues or the boss have ever said something remarkable and memorable about you, include those words in the cover letter. It is always good to know that candidates have been appreciated at their last job. This is a proof of hard work and team integration.
Also, if you have any official recommendations from previous managers, it would be a weigh heavily in your favor. Send them along with your cover letter.
4. Create Custom Cover Letters
Write a different cover letter for each job you are applying to, and underline different skills for each of them. You must do this because every job requires a different set of abilities.
Additionally, this becomes vital at some point — managers can spot template letters from the first two lines. The next thing they do is toss them in the trash.
They are completely right — if the candidate didn't take the time to write a text especially for that position, why should the employer make the effort of reading it?
5. Adapt Your Writing Style
Before starting to write, go through a short research process. Look online for the company and observe the style of its home page.
Do they use rigid presentations or out-of-the-box, modern and unconventional ones? Adapt the style of your cover letter to the one from their website.
This will your text resonate more with the team and help them recognize "one of theirs." As a result, the chances of being called in for an interview will be much higher.
6. Get Over the Fear
All candidates have a difficult time when it comes to talking about themselves. They would rather solve practical tests than think about personal flaws and strengths.
But here's a simple tip that will help you overcome this obstacle: Write the letter in third person, as if someone else were describing you.
Choose the perspective of a friend, old professor or ex-employer. Just don't forget to change it back to first person before submitting it!
7. Proofread & Edit
This final step is extremely important. Under no circumstances should you hit the send button before proofreading your cover letter.
Any tiny mistake can lead to a rejection, as HR managers usually have high-level demands. So take the time to correct and improve the text on your own, or hire professional assistance. There are online writing services out there specializing in improving resumes and cover letters for best results.
Another great idea is to ask a friend to read the application and point out the weak spots. Take advantage of his/her objective view, and try to make the necessary changes.
Also, online tools can help you out by underlining mistakes like spelling, long phrases, passive voice, pretentious words and so on.
—
Before starting to complete a cover letter, take these tips into consideration. They will increase the chances of being picked and called in for interviews.
Just remember to always promote your skills properly, and have faith that the right job is out there for you!
(Photo by StartupStockPhotos / CC BY)