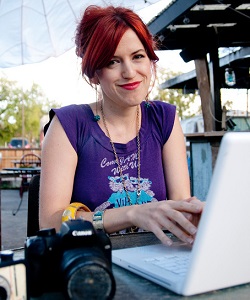 There are two things that are concerning for an average blogger: obscurity and balance.
When an aspiring blogger enters the online world, he is a complete stranger in an immense crowd.
Getting a decent number of visitors and readers is already hard, but things get even more difficult when someone actually reads your posts — their underestimating comments may make you feel insignificant and inconspicuous.
If you are a blogger who got disappointed with the hard start, there is one thing you should always remember: everyone starts at the bottom!
According to a study published in 2014, an average blogger in the U.K. receives 18 comments a day, has 285 followers/subscribers and earns £906 per year from affiliate marketing commissions.
For a part-time job that doesn't take too much effort if you love writing blogs, that's a decent reward that can get much better with time.
Although the statistics are frustrating for someone who is trying to attract attention in the blogosphere, the truth is that real commitment and creativity always results in success.
1. Counteract Being Unknown
There is a proven antidote for obscurity: give away free content! Attract more readers through free eBooks or even non-copyrighted articles.
Allow everyone to share and download content for free, and you'll attract more readers in no time. Of course, that content must be useful and well-written. Otherwise, there is no point in making attempt with blogging in the first place.
However, you shouldn't expect the transition from obscurity to stardom to go smoothly. This mission takes a lot of discipline, hard work, captivating personal style, endless patience, improvements and diligence.
It may take two years before your blog attracts the attention you aim for. The only way to make faster progress is through regular posting, an aggressive marketing strategy, and (most important of all) content of highest quality.
2. Balance Blogging and Life
So you reached a nice base of subscribers who are active on a daily basis? Congratulations! Now that you know how rewarding blogging can be, you face another problem: living your life.
If you have a regular job, you cannot allow yourself to focus your entire energy on your blog. On the other hand, your family also has demands, and you have to find some time for your friends as well! Who thought that the life of a blogger would get this tough?
If you intend on quitting your job and start making a living on your terms, blogging can take you up and down. You will have to devote at least three hours a day to a single blog post and then spend time addressing comments, answering questions and increasing your activity on social media networks.
Not to mention that you also have to communicate with other bloggers and write awesome guest posts to attract more attention. Blogging can easily become a full-time job, but it's not easy to get paid for it.
No matter what the circumstances are, you have to keep going. The only way to start making a living from your blog is by staying committed to it during the dry periods.
Advertising and affiliate marketing are options you may want to consider, but don't expect immediate results. The main thing you need to do is build an audience and offer something they would like to buy.
3. Know There Are No Limits
Commitment and persistence are the only features that distinguish successful blogs from the many failed attempts. If you can keep doing what you love and attract readers who love what you are doing, you will start making regular income from blogging that can only become higher as time goes by.
There is no other way to success: keep writing those posts, stay committed to a social media campaign and pay attention to the wishes of your readers. Your career in blogging can become unexpectedly rewarding, but first you have to commit yourself to it.
—
What about you? Do you have any tips on how to be a successful blogger? Leave them in the comments.
(Photo by Maria Vasquez / CC BY)