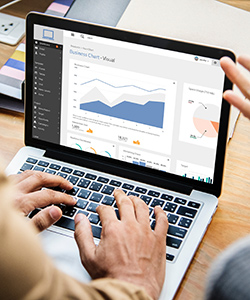 Growing a business that's profitable and thrives through cycle after cycle isn't just a tough task…it can be unnervingly difficult, and at times overwhelming. Business leaders are confronted with paying attention to mission statements, strategic positions, making competitive maneuvers, the bottom line, and day-to-day operations. Not to mention, if business begins to grow, increased layers of complexity form on top of what already seemed insurmountable.
In order to get the most of a business, those behind the wheel need more efficient solutions to handle operational assets. Maybe the sales team needs more insight into customer data to optimize marketing campaigns. Let's say a financial account has to input a variety of accounting information, creating an array of spreadsheets that require hours of perusal. This costs time and even more money, draining the business of available capital resources.
Have sales dropped off in the past month, and you need to know which leads are buying and which leads have gone cold? Keeping up with lead generation equals additional strain on your sales team.
There has to be a better way, right? Perhaps it's time to look into business management software; or applications that can improve business performance, save time, and free up resources that can then be redistributed to more vital tasks. A customer relationship system like campground management software can add serious value to venture. Let's take a closer look at how the appropriate program can complement your venture.
How Business Management Software Helps You Sell More Efficiently
At first, business is smaller and more concentrated. Employees can communicate easier, exchange information on the fly, and all the moving pieces flow as they should, at least for the moment. But as your company attempts to scale up, you need help in keeping departments connected. Across a wide spectrum of industries, lack of proper project leadership is one common that leads to falling employee engagement, and disconnected workforce. Management software that streamlines necessary business functions can create more transparency and visibility in your operation, giving you more control over every facet of the organization. Here are 5 reasons why you should make management software your next investment:
1. Access to vital information in and out of the office
When customer information is situated in a central location, having access on the web or on a mobile application increases productivity, especially for busy or remote teams. Software acts as a CRM or conduit for capturing leads, tracking job history, project scheduling, and photographic project history.
2. Connects customer relation with job scheduling and dispatching
Whether you have 5 or 50 employees, matching client request times for service with the proper team member can be a roll of the dice without a system in place. With the proper software, timetables can be assessed from a number of angles, and clarity takes the place of confusion. Suddenly, being able to send an agent, technician or service provider to a particular site becomes less of a hassle.
3. Customers enjoy a more positive service experience
Having a complete understanding of the project mission along with customer-specific aspects makes the service provider more productive, proficient, and capable of completing the job, assuring customers of your swift professionalism. Better reviews mean more business.
4. Keeps employees accountable
When a particular agent arrives at the job site, they are able to check-in, clock-in, and provide a timestamp that's then sent back to the home office. This way, punctuality and professionalism are confirmed.
5. Important administrative tasks can be handled on-site
Developing estimates and invoices, for instance, can be created on-demand, and on location by informed, connected employees/agents. They're also able to collect necessary on-site data to include in the customer's project file such as item repositories, photographs, add-on service or material bundles.
Implementing management software in your business adds several points of value, yet simplifies the more tedious factors involved in keeping employees on track, satisfying high customer expectations, and taking care of finances, all while pushing the business forward. Integrating management technologies into your venture isn't just encouraged…it's highly recommended going into the future.