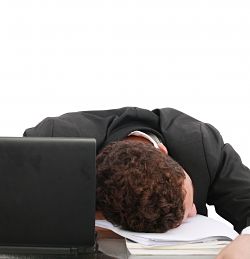 You have probably heard the common phrase "work smart, not hard" many times before. The basic premise of this phrase is that working too hard is not necessarily the best way of working.
Instead, when you spend a little bit more time on preparing and planning your work, you get even more done but with less work.
In order to "cure" the work hard mindset, here are five warning signs that you should recognize and remedies for each one of them.
1. Unclear goals
When you work, do you know why you are working? What are the goals you are working towards?
If you can't answer this question, then most likely you are wasting time on something you shouldn't be doing. Also, you may be working long hours, because your main target is unidentified.
Working without clear goals is frustrating and stressful. Also, you are most likely to procrastinate because you are unmotivated. Procrastination in turn piles up the work, so you have even more work on your hands.
Remedies:
Stop for a moment  and identify clearly your working goals – know your reason "why"
If the work is assigned to you by someone else, have a conversation with that person and decide the goals (and milestones) of your work
When you have clarified the goal, keep it in your mind when you are working
2. Lack of resources
Are you the only one working on this project? Also, are you the only person to whom the work seems to be assigned to?
Some years ago, I was working on a software development project. I felt stressed because I was the only developer working on the project for the most parts. Eventually I managed to finish the work, but I promised to myself: I don't want to work like this any more.
One way to relieve the stress in that scenario was to be open about it. This way, I managed to get some help during the peak times of the project. Also, a bit more planning before the project would have improved the situation later. This was clearly something that wasn't done in my case.
Remedies:
Be open about your  workload; if this is happening in a corporate environment, have an honest talk with your project manager or boss about the situation and the expectations towards you
If you are working by yourself, consider seriously delegating your work to someone else
Plan properly before the project starts, so you know what type of workload is ahead of you
3. Not willing to let go of work
Our mindset plays a big part when it comes to working the hard way or the smart way. In this situation, we are talking about the fear of outsourcing and fear of letting go.
You feel you must be the person in charge and you are irreplaceable, so you are not willing to let go of your work. This in turn causes you to work extra-long hours, because of your unwillingness to outsource some parts of your work.
Also, you have problems with trusting people, because you think they cannot deliver the same quality standards than what you can.
Remedies:
Think the bright side of things: If you are willing to let go of some routine aspects of your work, the more you are actually going to accomplish. Besides, the more time you can free up to other activities
Consider also, that your competitors are already outsourcing their work, thus their businesses are growing faster
Describe clearly what you want your outsourced worker to do for you – and how. Provide clear documents and instructions, train him/her properly
Try to form a relationship with your employee – no matter if he/she is working on the other side of the world. They are people who need your attention too (just like a regular employee)
4. Unrealistic deadlines
I have to admit that I have fallen into this trap myself. I have promised too optimistic deadlines for the work I was going to deliver. This caused unnecessary stress (and even sleepless nights).
Later, I have tried to be a lot more realistic on my estimations. I understand that the loser the deadline is, the more time you are going to spend on the task. On the other hand, promising too much in a short timeframe is not realistic either.
Remedies:
Do you really understand the task you are going to deliver? If not, it is useful to define a bit more pessimistic deadline an overly optimistic one
Spend a little bit more time on planning the execution of the task. Try to find all the necessary steps to take and how much time they would need to be accomplished
Review you progress a frequent basis. If you are accountable to your boss (or other parties), keep them informed about the situation
Honesty is a very good trait; if you feel that you are not going to meet a deadline, don't pretend otherwise. Be open and honest.
5. Not saying no
Finally, one of the ways to overburden yourself with work is to say "yes" to every request you get.
You do this because you are afraid that people do not like you anymore if you say no. At the same time, you have to keep on working harder and harder, because you want to be a good buddy with everyone else.
Remedies:
You have the equal right to say "no" as someone else has a right to ask you to do something
Say politely, but firmly "no".  Communicate clearly that you are not available for the work, but perhaps later when you current task or project is completed
We often over-exaggerate the situation in our mind what might happen if we said "no" to a request. In most of the cases, nothing bad will happen.
Conclusion
Working too hard can easily turn into unproductive action. However, this can be avoided by doing some planning beforehand. This planning can reduce your stress and give you more energy to focus on the tasks that you should be actually working on.
Are you working too hard? Share your thoughts with us.
Photo by FreeDigitalPhotos.net.
Popular search terms for this article:
i work too hard, work too hard, do i work too hard, Powered by Article Dashboard hand job, people who work too hard, can you work too hard, my job is too hard, working to hard, working out too hard, you work too hard