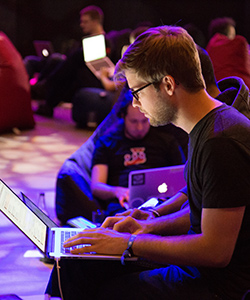 Getting the job you want takes a great deal of effort, and the interview process can cause anxiety, particularly if you're changing careers. Before you start your job search, make sure that you have the necessary skills, including a plan for additional education, if needed. Use these tips to separate yourself from other job candidates and get the job offer.
Firm culture
It's important to understand the culture of every firm you research as a potential employer because the culture will help you determine if you're a good fit for the position. One indicator of firm culture is the background and management style of the company founders.
Fortunately, websites such as Corporate Office HQ offer profiles on company founders, which can help you prepare for a potential job interview.
Changing careers
Changing careers may make your job search more complicated because you'll need a new set of skills to succeed in your new career. Before you decide to switch careers, consider how much additional education and training you'll need.
If you work in marketing and decide to move into accounting, for example, assess how many accounting courses you'll need to take before entering the field. Your education plan may include taking the CPA exam, which requires a minimum number of undergraduate courses in accounting. Your career plan may include a transition period for additional education.
Personality test
If you're unhappy in your current job, or you're just starting a career, try taking a personality assessment. You can find free assessments online, and the results can help you understand what type of work you prefer. A person who has a creative personality, for example, may not succeed in a career that requires heavy structure and attention to detail. A personality assessment can be your starting point for a job search.
The resume
Once you've taken a personality test, work on your resume. The top center portion of your resume should state your name, the type of work you do, and your contact information (email, phone, LinkedIn information). The description of your work might be "director of strategic communications", or "financial accounting manager".
This resume format makes it easy for a hiring manager to quickly find your name, skills set, and contact information.
Next, include bullet points on your skills and expertise, such as "manage marketing campaigns", or "complete monthly accounting reports". The resume reader can glance at the bullet points and get an idea of your specific skills and abilities. The final section of your resume lists your work history, including company names and job titles.
Interview preparation
Your interview preparation can help you outperform other job candidates during the interview process. Make sure that you clearly understand the job description, and each skill required to succeed in the position. Perform research on the company's history, growth prospects, and the firm's culture. If possible, use your professional network to find someone who has worked at the firm, and ask that person about the company.
Prepare written questions to ask the interviewer. It's likely that you'll meet with several people as you interview, so prepare a group of questions. Many job candidates neglect this step, and preparing questions is an opportunity to stand out from the competition.
Arrive at the interview location early, so that you can gather your thoughts before entering the office. Show your interest and enthusiasm during the interview, and write down the names and job titles of each person you meet. After the interview, consider sending handwritten thank you notes to each person. Most job candidates will email the interviewer, but you can differentiate yourself by both emailing and mailing a note of thanks.
Make the effort
Preparing for success in an interview takes effort, but your time investment can pay off. Even if you don't get the position you interview for, you may be a candidate for another position down the road. Put your best foot forward to succeed in your job search.