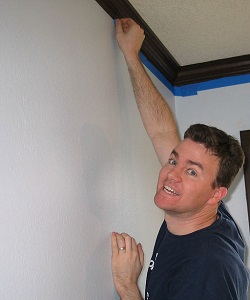 Your house doesn't care whether you're on a budget or have plenty of cash to spare.
When fixtures break down or the foundation cracks, you have to take care of them before the damage worsens.
Even if you are renting your home, you may be liable for the repairs.
These tips can help you handle the necessary tasks without going into debt or paying more than necessary.
Check Your Insurance
One of the first things to check is what your insurance policy covers. Depending on the kind of repairs your home needs, most of the cost may already be covered.
House Logic reports that even basic coverage will handle damages and repairs so long as they can be clearly linked to an event such as a fire, criminal mischief, flood, or so on.
If your home has been damaged in an event and you want your house insurance to cover it, make sure that you document the damage as soon as possible. Take pictures from multiple angles.
Contact your home insurance agent and make an official report. It can be pretty tough to get the insurance company to foot the bill if you don't let them know what's going on from the start.
Browse for Coupons
Many people assume that coupons are only for small retail products. But coupons for home improvement products from Lowes and Home Depot are easy to find as well. They probably won't be in the Sunday paper, but you can find them online in places like FatWallet.
When you find them, make sure to read the fine print. They might be general discounts for your entire purchase or just applicable to particular products.
It's not hard to find deals on the tools you need to improve your home. You can search for Home Depot coupons on Ebates based on the store or based on the product you want.
For the best results, search first for the store you'd like to shop to find your preferred brands. Then search for the specific items you need like 2×4's, rebar, or faucets. This way you can find additional coupons from stores you might not have considered.
Barter for Services
Getting discounts for services can be tricky. After all, the time and money required varies significantly with the task. Simple repairs like caulking a window or replacing a wax seal on your toilet don't require much specialized knowledge.
However, "3 Top Home Repair Projects Requiring Professional Help" recommends untrained people refrain from repairing their roofs, plumbing or electrical systems. Unless you have professional experience and know precisely what you're doing, you could seriously injure yourself and damage the home.
Depending on where you live, handyman service costs can be anywhere from $60 – $200 an hour, or charged on a per project rate.
If money is tight, even a less expensive but reputable home repairman might be out of your budget. But don't despair. Money Crashers recommends online bartering sites or even bartering within the community. Think about what skills you have.
You can always ask the repairman what he would be willing to trade. In most cases, you'll be required to supply the materials. What you trade could be something you have or something you can do. You might be able to trade piano lessons for electrical repairs or something similar.
If you do decide to barter for services, put together a contract that states what you will be doing and what the repairman will be doing. This way you don't have miscommunications later on. Don't make any assumptions.
You don't have to have an attorney draw it up for you so long as you make sure that the written agreement covers all the pertinent details such as who will do what, what the tasks include and what will be done in case of emergencies or project failure.
Specify what you are giving in return. It may help to break down the actual value of the services in question.
—
Fixing up your home on a budget isn't that tough; it just requires a little thinking outside the box and a desire to get the job done.
(Photo by Monique Popp / CC BY)