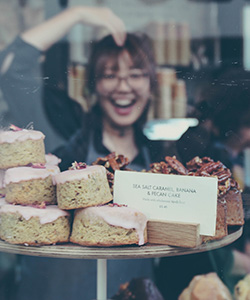 Choosing a delicious looking sweet from a bakery is a favorite of many people. Weddings are perfected with the sight of a two to three-tiered cake beautifully decorated for the memorable occasion. Chocolate or vanilla, everybody has their favorite. Professional bakers are the ones who bring us these wonderful desserts. In an ever growing industry, it is important for bakers to perfect their online presence in order to easily show what they can do. An online presence for bakers can be the difference between success and going home.
With social media and the power of the picture, taking pictures of your baking creations is important. People will compare what they see on the internet to any baker's creations. The pictures have to be good. It is important for a baker to have a website that highlights their bake work so customers get an idea of how well you create. Of course, the real test is taste, but the pictures bring them in. The competition is fierce out there.
Having an online portfolio for a baker makes things easy. With things like a portfolio maker, a baker can have help to present the best work of their lives to generate more business. Grabbing your phone or tablet and showing a potential client what you can do as a baker makes it easy to draw people in. This will help people want to schedule a tasting, and ultimately hire you for their wedding or special occasion. If you have a bakery, an online presence will help people to drop by your bakery for their sugar fix.
Having a bakeshop in a physical location will get you some customers, and word-of-mouth is still always good for gathering new clients. But it is the internet now that can make or break a bakery business. There is a lot of competition, so having a well-designed website to connect to the map location of one's bakery is good. Someone who has a bakery storefront needs an online presence with a website and social media to keep the customers coming.
Once hired, letting people know at the wedding who made the wedding cake is good. You can always ask for permission to display the baker's name somewhere so people know where the delicious cake was made. Not everyone can take the bride's time to ask who made the cake. If the cake or desserts look good and taste amazing, people will want to hire the baker for other occasions.
Having a good rating on the internet is always important. It is important to have good customer service. Answering all complaints and making them right can ensure a good rating on the internet. Asking people to please give a positive rating seems to work for the most successful businesses out there today. A good reputation is always good for continued success in baking.
As your baking business grows, you might be in for a little expansion. Well-made baked goods cookbooks always sell well. The books inspire thousands of home bakers who dream of becoming a well-paid baker. If your bakery or baking business is well loved in your hometown, you might think about opening one in another town or city. There are investors all over today looking for the next best thing to invest and promote. With a lot of hard work and great tasting baked goods, there is no telling how much money a baker can make. Sweet tasting desserts will never go out of style.
So if you are a baker or are thinking of starting in the baking business, make sure to have a few things. Show off your delicious cakes, cookies, pies, pastries, or whatever baked specialty you know how to make, with a professional online presence. With these important factors in your business plan, you can grow your business. If baking is your passion, it is very possible to become successful with the help of the internet and the sweets-loving public.