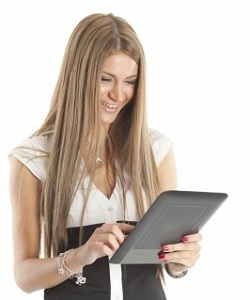 Britons are the biggest online spenders in Europe, with predictions of an average $1,800 per person to be spent shopping across the Internet in 2015.
That's a year-on-year rise of 16 percent, pushing online retail sales in the U.K. to $80 billion.
The U.S. and Canadian markets can expect a similar rise.
But do you feel that your e-commerce site isn't allowing you to get your hands on a share of this market due to poor performance?
Giving your customers the chance to buy your products online is one thing – but is your site letting you down when it comes to converting visits to sales?
Here are five ways of making sure your e-commerce site is up to scratch.
1. Is It Fast Enough?
Customers don't like to wait. A customer tends to lose patience if they wait more than seven seconds for a page to load. So checking your page loading speeds should be a priority, otherwise you risk baskets or shopping carts being abandoned, thus fewer conversions made.
If you've recently expanded your selection of products available online, this could be slowing the whole site down. Google takes the speed of a site into consideration for rankings and rewards the companies that provide the best and fastest user experience, so make sure you recognize and resolve any problems.
The priority is your home page. Be aware of how much content is held here — of course you want to give new customers an overview of what you offer, but overloading it with graphics, text and images may be slowing it down. Remember, if this entry page isn't right, the potential customer may never venture to the rest of your site.
Make sure that Google Analytics is checked regularly by a member of your team, as this is a good way of seeing the loading time of each page on your site.
Slow speeds may be due to several factors affecting the site as a whole rather than an individual page. It could be the way your site is built, the speed of your server or that certain images need to be compressed.
Google can provide an insight into potential problems that may be causing issues with page speed  — pass this on to your developers or whoever built your site, and let them work out where the problem is coming from.
2. Is It Usable?
Put yourself in your visitors' shoes.
Are they able to get all the information they need, such as your contact and delivery information and returns policy, without having to struggle searching for it?
Information also needs to be presented clearly and in a way that's easy to quickly take in and understand. Rather than having pages of dense text, break things up with easy-to-read tables or graphics.
Revise the way your order forms work — what information needs to be included and what happens if a field isn't completed correctly or at all? If all information is deleted and the user is taken back to the start, they are less likely to re-input and complete the sale. An ideal situation would be for missing information to be highlighted, allowing the customer to fill it in almost without thinking.
This part of the process is like a chore for your customers, so don't make it any harder or longer than it needs to be, or you'll lose them. Developers often neglect to think about usability when building things such as forms, so if this is the area you're losing customers, make sure you re-test the process and make it a priority to update.
3. Are You Trusted?
While customers value a clear returns policy, they also like features such as a live chat function that shows you're always available to contact with any queries. However, third part endorsements are the ultimate way to build customer trust.
Services such as Trustpilot are an effective way of gathering customer feedback in one place, display prominently on Google search results and give you icons and badges to be used on your website as a further sign of customer satisfaction.
Customers do their research before purchasing online, and it is in this browsing phase that they will look to reviews for guidance. The modern phrase for this is that they are looking for "social proof" of your business' reputation. It's up to you to make sure what they find is positive.
A recent move for us was to apply to be one of Google's Certified Shops. The main benefit of this is that Google will help to push the businesses that have enrolled in search results.
However, it's not for everyone — if you are a brand new business or in the process of expanding, there are free services available that can help provide you with the social proof you need. Make sure you choose a platform that is recognized in Google's search results.
One service that offers a free trial is Trusted Shops; you input customer details and the program reaches out to those customers for a review. You don't need a large number of reviews to see a difference in terms of your visibility when people Google your brand.
4. Do Your Customers Have Choice?
Are you making it as easy as possible for your customers to pay? No one wants to have to turn business away, so offering a wide range of payments is giving your visitors what they want.
Our business has accepted all credit cards from the beginning, including American Express, which is often seen as too expensive. Though charges are higher than MasterCard or Visa, it's still a popular corporate card, so if your visitors include businesses, it's something to consider.
Similarly, many business customers would rather have a credit arrangement, which is a good idea to offer if you can. Our business also offers further options — PayPal and Amazon Payments.
It is now an expected part of e-commerce sites to save credit card details and remember order history because of the example set by Amazon. This is the level of service expected by your customers.
By making ordering and paying as easy as possible, you are opening the door for your customers to keep coming back. It may seem simple, but it's true.
5. Product is Priority
It's crucial that your products are displayed with the best product information possible, inviting your visitors to purchase. Make sure your site includes a mix of words, images and video that display every item you stock. With such a crowded marketplace, you need to make sure that you have the attention of every potential customer, and adding value does this.
Are you doing something different? I remember an example of seeing a rug advertised online. Included alongside it was a short video of a team member rubbing their hands over it to display its thickness. It was short and simple, but stuck with me.
The main thing to remember is to make your content original and relevant to your customers — not just a copy and paste of the manufacturer information. Not only will it be basic, it will be duplicate content that won't perform well with Google. It values original content, so bear this in mind when choosing how to present your products.