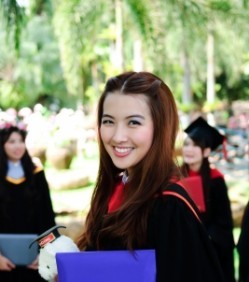 So you've just graduated from college, and you're either looking for full-time work or you've found a job that's far from your dream job. Either way, the development of your career will happen in small steps and giant leaps. Though it'll all seem incredibly slow, understand that Rome was not built in a day.
There are many things you can do during your down time to prepare yourself for your first (or next) job and improve your employability as a recent grad. It's all about picking up new skills and constantly challenging yourself. Here's how:
1. Brush up on a foreign language, or learn a new language.
In our increasingly globalized economy, those who insist on staying monolingual will only get left behind. If you took some classes in a foreign language in college or high school, try to aim for fluency by joining conversation and culture clubs, continuing taking lessons, and practicing. If you'd like to learn an entirely new language, go for it! Multilingualism increases your chances of employment drastically, especially if the languages are Spanish, Chinese, Russian, French, or Portuguese.
2. Learn how to use a wider variety of computer programs.
Computers are perhaps doubly more important than language skills in the workforce. While only some positions will require you to speak a foreign language, every position makes use of a computer. Of course, you're probably pretty adept at using a computer, but it's important to stay on top of which programs are being used in your desired field. A solid grounding in HTML is necessary for most types of jobs, but there are other capabilities that are increasingly being deemed necessities depending on the industry, like InDesign, Photoshop, SQL, and more.
3. Read the newspaper every day, a magazine every week, and a book every month.
More than anything, employers look for well-rounded, intelligent people who are engaged in the world around them. Being aware of current events, of history, and of culture, is not only good in terms of personal development, but it can help you become more employable as well. While the newspapers and magazines I read were usually pretty general, I made sure to read books that were in some way involved with my career field. Personally, I turned this rule into a habit, and after a year, I was well on my way to being able to converse about important topics with just about anyone. And that's impressive come interview time!
If you're un- or underemployed, do not give up hope. Wait things out and make use of your free time to improve your chances of finding better work soon. Good luck!
What other tips would you share to improve one's employability as a recent grad?
Photo by FreeDigitalPhotos.
Popular search terms for this article:
Powered by Article Dashboard how many people live in new york, Powered by Article Dashboard live mail, Powered by Article Dashboard digital people, Powered by Article Dashboard ny and company, Powered by Article Dashboard contest for money, Powered by Article Dashboard the secret of long life, Powered by Article Dashboard find people by email, Powered by Article Dashboard creative writing exercises, Powered by Article Dashboard group health credit, Powered by Article Dashboard make lots of money