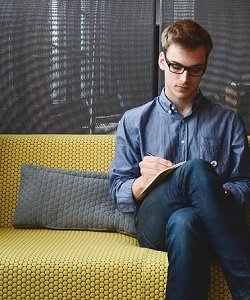 Maybe you're a business owner looking to get more exposure for your startup.
Perhaps you're a budding internet marketer with dreams of ruling the Internet.
No matter how different from the next guy you may be, you have one thing in common: You want your brand to get recognized — to improve brand awareness.
Here are 10 tips to help you establish brand recognition, regardless of what industry you're in.
1. Tell a Story
One of the most effective ways for you to develop brand recognition is to master the art of storytelling. Potential clients need to know the story behind the brand before they put their trust in it. Without a story, it will be hard to get your message across to the right people.
You don't have to come up with an elaborate story for clients to like you. You need a story that will speak to your target market and allow them to see the person behind the brand. People in general love origin stories so start off with how and why you conceptualized your brand.
2. Develop a Unique Logo
It may seem pretty basic, but business experts believe that having a unique logo for your brand is just as important as having the right story to tell. Just think of all your favorite brands and try to imagine where they would be if they didn't have their iconic logos. It just wouldn't be the same, would it?
So what exactly makes a killer logo? Simple. It has to be unique, well-crafted and able to tell the story of your brand at one glance. Your logo impacts purchase decisions and aids in developing the overall attitude toward your brand. You can't afford to miss out on making the right first impression.
3. Quality Print Marketing 
In this age of online marketing, never underestimate the power of high quality printed marketing materials. Business cards, flyers and even personal letters carry a high degree of trust and believability.
Remember, at the end of the day, you're still talking to real people so it's important that your printed materials are designed for, well, real people.
In order to have quality printed marketing materials, it's best to invest in quality printing services. If you want design and functionality that will speak to your target market, always consult with experts.
4. Be Smart with Billboards
You don't have to spend thousands of dollars to get billboard exposure on traditional billboards. If you're running on a low budget, you can always make do with the resources that are readily available to you. Using your cars as rolling billboards, for example, can be an effective and budget-friendly way to develop brand recognition in your area.
Since the average person will only spend a few seconds looking at a billboard, make sure that it works to your advantage. There are a few things to remember:
Keep the message brief
Make sure to include your logo
Remember your contact information
Have a persuasive call to action
5. Invest in Social Media
These days, you simply can't develop a brand without investing in social media. Social media has become the gateway for clients to know more about you.
Not only is it a great tool for developing brand recognition, but it's also the fastest avenue to get your brand's message to the right people. Make sure to use it well.
Since almost everyone is already on social media, set yourself apart by engaging followers with quality posts that offer tips, special offers and even related human-interest stories.
Don't make the mistake of using your social media accounts as a means to promote your brand 24/7.
6. Write a Blog
One way to get clients to know more about you and eventually trust you is to write a blog. It's not just great for developing brand recognition, you can also use your blog to inform, entertain and foster trust with your target market.
Establish your brand online by writing 2-3 quality articles per week. If you don't have the time to create your content, you can always ask the help of your employees.
This way, you'll be able to quickly fill up your editorial calendar and at the same time show off a more personal side to your brand.
7. Send Newsletters
Just like a blog, email newsletters can help your brand generate interest and trust with your target market. Sending your mailing list a personalized clear concise message on a user friendly interface can help them keep your brand in mind.
If you don't make the effort to stay in touch with your clients, you're guaranteed to lose them to competitors.
Since most people have already become immune to email newsletters, brevity is essential. Make sure that your message is tailored to your audience and contains a strong and clear call to action.
8. Produce Other Quality Content
Other than blogs and newsletters, you can also create other forms of quality online content that will help establish your brand online. If you want to increase your brand's status as an expert in the industry, you can try hosting a weekly podcast specifically catered to meet your target market's needs and wants.
Even if podcasting isn't actually your thing, there are other forms of online content that you can produce for your target market. Whatever medium you choose, always remember that part of establishing your brand is giving your clients what they want and exceeding their expectations above and beyond.
9. Reward Referrals
Word of mouth is still and will always be the most powerful way to get in leads. If you still haven't made it a habit to reward existing clients for referrals, it's time that you create some sort of program that will encourage them to talk more about you to their peers.
Remember, the happier your existing client base feels about your brand, the more likely that they'll be talking about you with other people.
Setting up a rewards system is as simple as offering a discount or incentive whenever they refer new clients to your company. Just make sure that you communicate the details to your clients so that they know they have something to get excited about.
10. Partner Up
Networking is another great way to get the right people to pay attention to your brand. By attending trade shows and local networking events, it will be easier for you to get your brand out there and maybe even find the right people to partner up with.
The key to finding the right partners is to focus on the verticals. Look for other brands that have the potential to grow with yours. As much as possible, avoid partnering up with direct competitors, especially if you're the one with all the advantages.
How do you think a memorable brand is created? What tips do you have to improve brand awareness?
(Photo by StartupStockPhotos / CC BY)