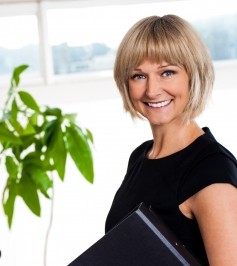 Fresh out of college, at my first job, I showed up at my office in a pink sweatsuit. It was a marketing firm, where the casual dress code was pretty liberal, but this was a downright horrible choice.
After receiving some feedback on my outfit, I never pulled that sweatsuit out again, and fully realized the power of personal image.
You may never make the same "dressing for success" mistakes that I made, but ever wonder why some people look so poised and powerful in their work attire? Strolling through the office, their appearance is impeccable and people respect them.
Regardless of rank, looking like an office leader is well within you capabilities.  In fact, it's downright easy.
Three Basic Rules to Dress Awesome
There are three simple things you can change right away that will elevate your office image, and help you be the best version of yourself.
1. Fit
Many people wear the wrong size suits. Both men and women choose sizes too big for them. Women especially, for fear of looking "inappropriate", and men because they typically want to be comfortable.
Although, being comfortable and keeping curves under wraps is important, wearing oversized trousers and skirts could be also damaging your image.
Wearing things too big can appear sloppy and unsophisticated. Which is often perceived as immature and lazy.
To ensure a good fit:
Make sure shoulder pads do not extend beyond your shoulders.
Skirts should hit at the knee or 1-2" above the knee.
For men, pants should be altered to a have a "single break".
For women, pants should be altered a 1/2 inch from the ground, in accordance with heel height.
Blazers and shirts should be slim, with little volume through you body.
Tie points should end at the beginning of the waist band.
A single finger should fit into the waist band. Beyond that, you should not have extra room.
Most modern suits are made with stretch in them. Keep this in mind when shopping because the suit will stretch up a size after you wear it. If it is too loose when purchased, the stretching will still occur and leave you with an oversized suit.
2. Invest In Quality
Skimping on your work clothes will save you money, but it could also prohibit your career mobility. Interviewers, clients and colleagues will associate any negative impression with your work and professionalism. People can spot poor quality quickly, so do not let shoddy clothes misrepresent the value you bring to your position.
Look to spend at least $500 – $1000 on your new work wardrobe. Buying fresh basics will jumpstart your image and the cost per wear makes the price feasible.
Consider buying less frequently to afford better quality. You do not need to have a lot of clothes, you just need to have quality, well-fitting clothes.
What work basics you will need to buy:
Men
Wool navy, gray or black suit
Quality, cotton white button down
Black leather (or quality equivalent) almond-toe shoes
Black leather (or quality equivalent) belt
Neutral silk tie(s)
Women
Wool navy, gray or black suit (pants, dress or skirt)
Quality, cotton white button down or silk blouse
Black leather (or quality equivalent) almond-toe high heeled shoes
Black leather (or quality equivalent) belt
Delicate jewelry
If your work does not require a suit, buy well-made business casual separates of high quality construction instead.
Suit or not, wearing beautiful things demonstrates your own self-worth. Choosing quality is not about designer labels, it is about having an elevated sense of style.
3. Give Details the Attention they deserve
If your resume is stellar but your shirt is stained, consider the mixed messaging you are sending others in the company. Focusing on the details of your appearance demonstrates thoroughness and consistency.
By ensuring you look good, you are telling your boss and colleagues you take yourself and your job, seriously.
How to upgrade your look with details:
Look out for stains
Ensure hemlines are perfect
De-lint
Manicure your nails
Wear makeup
Add cufflinks, jewelry or other accessories to add polish
Groom facial hair everyday
Steam your clothes
Buff your shoes
Wear a watch
Smile
People that make the effort get noticed because they put in that little extra.
The 3 basic rules to building a business wardrobe:
Fit
Investing in Quality
Focusing on Details
Keeping these three rules in mind will ensure an improved image when dressing for work. Even if you are starting from scratch, over time, with clarity and focus you will have no problem developing a sharp, smart and sophisticated style.
In the end, the reason this all makes a difference is because without representing your best self, no one can see the confident and brilliant person you are.
Looking great gives you the self-assurance to walk into the office, and know you got it. That is really why investing in your image is important, it tells the world how amazing you are, without you having to say a word.
How do you dress awesome at work? Tell us in the comments!
Image by FreeDigitalPhotos.net.