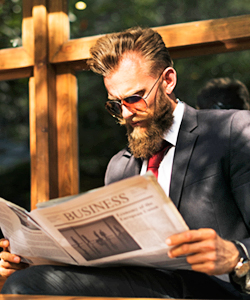 One of the hardest part of civilian life for the veteran is what to do in terms of a career. The longer a veteran is in the military, the harder it seems to assimilate into non-military life. For some of us, we seem to think that our veterans are limited to their employment. Many opt to become law enforcement, the closest thing we have to offer them that is close to a life they are used to. Others want something different, maybe even something that they feel is calmer or something they are in control of. We have curated a list of the top 4 business and career opportunities that a veteran can do well in.
Own Your Own Franchise
After living a life that tells you what to do for the better part of your day, wanting to own your business is a dream for any veteran. Starting from scratch can be difficult and we are fortunate that there are franchise opportunities for vets.  With a franchise, you don't have to build a brand and you have some control over how the business is run. Of course, you have to match what corporate wants but there is some resemblance of freedom in going a little further with the business. It can be a costly startup so be sure to investigate as to whether your franchise of choice is offering discounts for veterans. Some franchises offer some sort of percentage discount or a flat fee discount.

Enter the Medical Field
Often when we think of veterans, we automatically assume they were working the front lines. The reality is, there are lots of different jobs within the military. One of the more popular and well known are the medical units. Transitioning into civilian life can be easy when you opt to take your medical on-the-field training to the local hospitals and doctor's offices by being a nurse.  The fortunate aspect is that veterans are already educated and trained and are easily placed. Quite a few opt to work in VA hospitals to support their brothers and sisters who are in need.
Become a Government Contractor
Some veterans were in a technical field within the military. IT, network security, and engineering are important aspects within the military and are easily transferrable when re-entering a civilian life. The government routinely contracts out for live support, logistics, transportation, medical, and administrative work. By law, 3% of all contracts must be awarded to small businesses owned and operated by a veteran. If you have been working in those fields for 5-20 years, you will have a lot of expertise in the government sector that will be a huge benefit for you to land that contract. There are websites to help you, such as Vet First Contracting Program, learn how to get your small business as an independent contractor verified and assist you with how to bid on government contracts.
Open Your Own Retail Shop
A sure-fire way to embrace the career you want is to open your own retail shop. Retail is considered the 4th most popular venue for veteran entrepreneurs and part of the popularity is due to the support veterans receive from other veterans. It's no small secret that there is a brother/sisterhood amongst veterans and families of veterans. When a veteran opens their shop, and includes some sort of military theme, veterans and their families will want to lend their support and shop often. It can be a costly startup so be sure to look for small business loans designed for veterans and get the backing of your family and friends.
Whether you are the veteran, or a loved one of a veteran, you know how important it is that they have some sort of career in place at home. Above are just a few options, there is so much more available to the veteran if you research and find those opportunities.