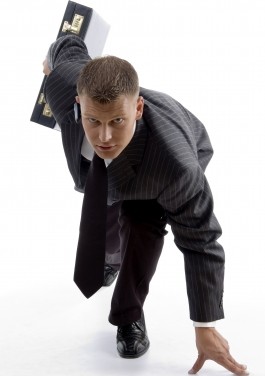 Starting your own business has a lot more to it than settling down in a coffee shop with a MacBook and waiting for the money to roll in. It's backbreaking work and an emotional rollercoaster, but at the end it's worth it.
We're here to make sure you get off to a good start, and take your first steps in the right direction. Let's see how to effectively start a startup:
What's in a name?
A lot, unfortunately. The name of your company can make or break you. There are a variety of apps and tools to help budding entrepreneurs out with the naming process, but ultimately it's a very personal decision: Do you choose something associated with your service, or completely unrelated? Would you rather make up a word, or pluck one from the millions that exist?
A name needs to be both unique and memorable — something that is easier said than done, when you consider the volume of existing registered businesses.
Get online
During the naming process, you're going to have to check if there is an available domain for whatever you've chosen.  These days, every business needs a strong online presence, with an entertaining, high quality, and informative website.
Company blogs are getting increasingly popular, and can often keep potential consumers on your site for a lot longer than they intended to be!
To tweet, or not to tweet?
Again related to the above (a pattern is beginning to emerge, right!), register your company with all the relevant social media sites. Many businesses attract a large majority of clients from social media channels, and through taking the 'personal approach'. Keep it standardised: You should have the same name for everything from your domain to all your social media accounts.
Don't stop at just the obvious social media sites either (Facebook, YouTube, Twitter), go after every available channel; Pinterest, Instagram, and Tumblr are great ways to appeal to a wider audience, using different mediums.
Foolproof your plan
Where do you see your business heading in five or ten years? What is your startup's estimated annual turnover and profit for your first year of operating? How do you plan to expand? A long term strategy is essential in the startup stage of your business.
Spontaneity and improvisation are great fun, but it'll all end in tears if you don't take the time to make a solid business plan.
Find a good bank
Most banks have dedicated business accounts with specific terms and rates, so you will need to setup a company bank account. A lot of startups and small businesses need a loan from a bank to get started, which means your bank manager should become your new best friend. Schedule regular meetings with bank personnel to make sure your finances stay on track.
Professional relationships
Depending on the industry you're planning to operate in, you may need to rely on other professionals such as traders and stockists to help your business function. Keep these relationships professional but friendly and you should find doing business much easier.
Right side of the law
The majority of businesses will need a lawyer at some stage, if only to make sure the company complies with the necessary laws and regulations. Ask other professionals in your industry if they can recommend anyone, and consider a free consultation with a legal professional.
Make sure you're up to date with government standards that might apply to your business, and that you hold any necessary licences or permits. Your solicitor, local council, and specific government helplines will be able to help with this.
The right price
Think about how much your staff, time, and potential stock will cost, and what kind of profit margin you want to reach – and be realistic. There's no use assuming that you'll be making millions in you first three months of being in business.
Make sure you thoroughly research your market and your competitors to make sure you don't price yourself too high or low.
Marketing, marketing and more marketing
Your business isn't going to get very far if customers don't know who you are, so you need to think about how to get the word out about your services. You'll want to consider options such as traditional print advertising, online marketing, email, telemarketing etc.
Often word of mouth is the best way for a small business to get noticed (either that, or a killer blog/social media account!). Companies are pulling out all the stops with their marketing campaigns, and it's worth watching what techniques they use — from adverts going viral, to clever 'consumer letters' (think about Sainsbury's Tiger bread incident!).
Company printing
Image and networking is everything to a fledgling business, so make sure your printing looks the part. Business cards are a great place to start but also consider printing letterheads, compliment slips, plastic cards, and stickers or labels for product packaging – anything to make you stand out in a crowded marketplace!
Take Lord Sugar's seat
Well, not literally, but if all goes well, you will need a strong team of staff to handle some of the workload for you. Hiring new employees is not an easy task and you will likely be making a big financial commitment to this person, so make sure you take your time to hire a candidate with the right fit.
You can either advertise for new positions yourself, or hire a recruitment agency to find suitable candidates for you.
—
What other cool tips do you have for business startups? Share with other startups and small businesses in comments!
Image by FreeDigitalPhotos.net.
Popular search terms for this article:
Powered by Article Dashboard small business start up, Powered by Article Dashboard social networking research, Powered by Article Dashboard new small business loans