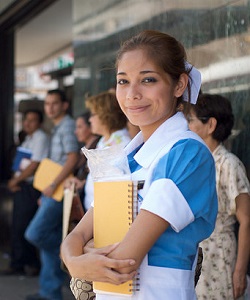 There are a lot of offerings when it comes to nursing school. How do you understand the differences?
A BSN usually takes four years to complete, and the curriculum is much the same as an ADN but with more in-depth study and more hands-on experience.
Nurses with BSN degrees simply have more knowledge about nursing than their lesser-educated co-workers, which makes them substantially more attractive to employers.
Additionally, BSNs have a wider variety of career options after graduation.
Though they may choose to find employment at a hospital or care facility and assume the typical nursing responsibilities, they may also choose to enter the field of public health to aid communities in health initiatives, or they may work as nurse educators to train another generation of hardworking nurses.
Plus, BSNs earn more than $10,000 more in salary than nurses with only associate's degrees or certificates.
Master's Degree
A nurse with a Master of Science in Nursing (MSN) degree has demonstrated his or her devotion to become a health care provider that is more knowledgeable, skilled, and effective. MSN programs range in duration depending on one's target of study, but ultimately, every MSN graduate receives the distinction as a master in his or her field.
With advanced studies into subjects necessary for nurses, MSN graduates are better equipped than their peers to handle specialized tasks in hospitals and care centers.
Thus, nurses with MSNs are more likely to excel in the workplace and receive commendations like promotions and raises.
MSNs rarely work as menial workers; instead, hospitals vie to hire MSNs as chief nursing officers, nurse administrators, nursing directors and more. On average, an MSN earns a six-figure salary because of his or her advanced responsibilities.
Doctorate
In most fields of study, the doctorate is the most difficult degree to achieve, and thus it is the most prestigious and coveted of the advanced degrees. However, in nursing, the doctorate isn't necessarily all that beneficial.
Because nursing is above and beyond a practice discipline — meaning workers gain knowledge and skill mostly through hands-on experience — the years upon years of academic study into nursing doesn't yield much benefit to the individual nurse.
In fact, while most hospitals and care facilities are happy to hire a candidate with a master's degree, they are reticent to hire anyone with so much academic distinction simply because it usually demonstrates their failure to practice in their field. Nurses who desire the honor that a Ph.D. allows should recognize that their career options might be limited to the education sphere after they win their title.
Certificates
Nurses who lack the time and dedication to achieve a complete degree can consider earning a certificate as a licensed practical nurse (LPN) or a licensed vocational nurse (LVN).
Certification usually takes a little under a year to complete, though the curriculum is generally just as rigorous as most ADN programs, which means students must learn quite a bit in a significantly shorter period.
Additionally, like an ADN, LPN/LVN certifications will not allow nurses to progress very far in their careers, but they are always able to enroll in additional education to better their understanding and preparedness for the field.
Hopefully these explanations can help you understand what your options are in nursing.
(Photo by Joe Philipson / CC BY)