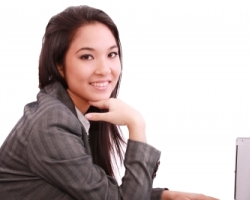 These days, it can be difficult to stand out from others in the workplace, whether you're a newbie to the team or a seasoned veteran. Therefore, proving that you're a viable and essential employee is an important task because you don't want to be known as that employee, i.e. disposable. But how do you prove yourself?
Although we don't all have the time to create a "work map," it's important to note where you want to go, how you plan on getting there, and what the outcome was, whether the objective was big or small.
The easiest way to do this is to get yourself into a habit of mapping your routine and showing your results. Here's how:
Take control
Even if you're not at management level, it doesn't mean you can't take control of your day-to-day activities, as well as your career.
Make conscious efforts to see what works for you. For example, if you work better in groups, ask your boss about weekly brainstorming sessions. Conversely, if you prefer to work on your own, this can be relayed at well.
By telling your manager that you work better by doing a certain task a certain way, you're essentially letting them know how you can work at your optimum level.
Plus, when it comes down to it, it's your career. If you don't take control of it, who will? Don't be unreasonable, but do speak your mind.
Show how you manage your goals
Managing your goals is not the responsibility of the team lead. They're the responsibility of those who are assigned to them.
How do you manage goals? What do you use to track progress toward your goals? Do you use a legal pad or a management platform? Can your manager see?
Figuring out the best way to manage your goals and showing how to reach them will give your manager insight into your progress, as well as show why you're an asset to the team.
Track your accomplishments
Tracking your accomplishments should be one of the main priorities at your job, apart from your day-to-day activities. Why is this important? Well, apart from the obvious, no one is going to keep tabs on each and every one of your objectives and goals. That's something you need to be in charge of.
This is easier said than done, of course. Since we don't always have five minutes to jot down when we've met a goal, you either need to get into a strict routine or use an outside platform to track your accomplishments.
Keep in mind that you probably won't remember every objective you've reached, so having a list and keeping up with it is necessary. When it comes down to it, this proactive tactic will help you in the long-run.
For example, imagine sitting in a room with your manager only to forget those little accomplishments which led to something larger. It's inexcusable in your manager's head and would have been completely avoidable in yours, so start tracking!
Measure your progress
How often do you measure your progress toward goals? It shouldn't be during performance reviews. They should be measured often.
The more systematically— and the more frequently—you monitor progress toward any given goal, the better your chances of reaching that goal. Plus, relaying to your manager that you achieved XYZ during an important time period lets them know what you excel in, what projects you'll be great with, who you work well with, as well as your stake in the company.
Ask for an endorsement
One of the simpler ways to show your results is to get others to do the talking for you. When it comes down to it, you can say you rocked it, but when others vouch for you, it's even better.
Endorsements don't have to be formal, either. They can be anything from a LinkedIn recommendation, to a co-worker praising your skills, to an old boss giving you the stamp of approval.
Remember, the opinion of others is pretty important in any decision making process. If you're ever in the position where you need to prove yourself, be sure to back up quality work with a thumbs-up from outside parties.
—
What do you think? What are some other ways prove yourself to your manager?
Photo by David Castillo Dominici.
Popular search terms for this article:
how to prove yourself at work, proving yourself at work, how to prove myself at work, how to prove yourself to your boss, how to prove yourself in a new job, prove yourself at work