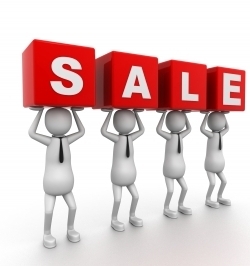 When I first joined my company two years ago, I had no experience in the field. I was a traditional journalist and book editor moving into web marketing. Now, I'm the director of the department. And I credit getting there by knowing how to exercise selling and be a good sales person.
Everything we do throughout our career involves selling. In this case, it's not about selling a product or a service; it's about selling yourself to get hired, to be promoted, or even to get that raise.
Today, companies aren't looking for the most experienced candidate or the one with the perfect skill sets. They're looking for the candidate that fit best with their culture, the candidate who's confident, is prepared, and asks good questions to truly understand what the company needs.
And that's the foundation to any great sales process, regardless of what it is you plan to sell.
"If you ever want to get a job, get promoted or even get a raise, you have to know how to sell," said Greta Schulz, founder and CEO of Schulz Sales Consulting. "No one is ever going to remember your achievements, nor will they often volunteer a raise or promotion, without you asking for it and selling them on it."
Know how you'll be a good fit
A good sales person won't go into any prospect meeting without knowing the company, the decision maker, what they need, and how their product or service is going to help. The same goes for your career. You should never go into any situation without knowing first what the position entails, what the company needs, and how, not why, you're the best fit.
Knowing the company's culture is critical if you're going to be show that you'll be a good fit. Late last year, Bullhorn released a study on Workplace DNA that analyzed the factors that people think about when viewing culture. When you determine the culture, show that you're capable of working in that culture with each and every question that you answer.
When preparing for this, consider these questions that you may get asked and know how to answer to them:
What are the company's core values?
How will you further their mission statement?
How will your character be vital to the company's performance?
Don't just talk about yourself
It's not enough to give your 30 second elevator speech on how you're a self-starter, a hard worker, and extremely dedicated to the job. Your competition will be saying the exact same thing, and companies have heard it all before.
Your ideas are what people haven't heard before. Whether you're trying to get your foot in the door, asking for a raise or vying for that big promotion, come prepared with two ideas that you would implement. Show how these ideas would benefit the company.
Don't forget your case studies
Sales people thrive on case studies to help support the claims they've made about their product or service. They give prospective clients a glimpse into how their business could improve with whatever it is they're selling.
You should do the exact same thing. Since you've done the due diligence to know the company, relate how things you've done in the past are similar to what you could or will be doing. These could be things you've done in college, at internships, previous jobs or even within the same company if you're moving positions.
Never think you're under qualified
Sales people are known to take chances. They don't pass up an opportunity because it's something they've never done before. They figure out how to they can parlay their existing skill set into the new venture.
When I was graduating college, I applied for a lot of jobs. I was 21 years old, about to be off my parents' payroll, and was desperate to do anything for anyone. If it even remotely fit my qualifications, you can better believe they got an application from me. The worst thing that could happen is they say no — or just never email back in the first place. Which they did.
Of course, there's a catch here: You can't apply to be an organic chemist if you never got past Math for Liberal Arts and Science Majors in college, but you're likely not interested in that anyway.
The point is to not sell yourself short. Yes, experience in the field that you plan to go into is critical, but being a smart person is even more imperative. Every company has their way of doing things, and they will train you on how to do those things.
What are some other things you can do to show that you're the right person for the job, promotion or raise? 
Photo by renjith krishnan.
Popular search terms for this article: