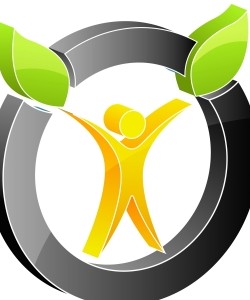 Success increases with the number of consumer impressions. And while it's important to practice common sense and be selective – avoiding exposure that might compromise your brand image – you should otherwise feel free to display your business logo just about everywhere.
From stationary, business cards and fliers to web pages, signage and even the side of a car, bus or building, the opportunity for self-promotion with a quality logo is practically endless. But when it comes to grabbing the attention of the consumer, it's often the unexpected places that catch their eye the best. So here are a few possibilities for showcasing your new logo you may not have considered.
1. T-shirts and caps
Whether you run a deli or landscaping business, branded hats and t-shirts turn employees into walking advertisements. Many popular companies have also transformed their logo into a sellable commodity, allowing customers to buy the same apparel their employees wear to showcase their love and support of the brand to friends and family.
In fact, this tactic has become a profitable revenue stream for small locally-owned eateries, retailers and service providers that cater to tourists, accounting for more than 50 percent of annual revenue for some surf-style apparel manufacturers and similar companies.
2. Branded giveaways
Coffee cups, personal electronics, backpacks and even sports equipment make for ideal promotional items, commonly used for everything from gift bags to sales promotions. Often held onto for years, they line the windowsills and bookshelves of your customers' offices, bearing your personal logo and serving as a continuous reminder of your product or service.
3. Web ads
Many small businesses only include text in their ads, which can save money but can also end up being a huge mistake. Your logo is a key component in establishing the retention and preference of your products or service. As such, it should be used anywhere and everywhere you publish an ad – from social media to popular ad services. Doing so integrates your marketing efforts across all channels and further helps to establish the authenticity, trust and reliability of your offer.
4. ID badges and guest passes
When your employees leave the building for lunch or an off-site meeting, oftentimes they'll keep their ID badges around their neck or attached to a belt clip.
By including your logo on these miniature reader boards, you grab free advertising while they stand in line for a sandwich or cup of coffee while also reinforcing the communal team spirit of your organization. When guests walk away with a visitor pass bearing your logo, it serves as a reminder of their meeting and helps to further reinforce the positive aspects of your company among buyers and potential partners.
5. Public places
Your goal is to get your logo in front of the consumer (and as many of them as possible). The best way to do this is by posting your logo in places where everybody goes. Ideas include local libraries and meeting halls, malls, shopping centers and grocery stores. Items for branding would include shopping carts, in-store signage and community bulletin boards. The value in posting your logo to a local bus stop is two-fold.
First, you get countless exposure from the captive audience waiting for a bus. Plus, you get exponentially more consumer impressions from the drivers passing by or, better yet, sitting at a red light. Just make sure to pick a location with a steady stream of foot- and motor-traffic.
Where do you display your business logo? Share your thoughts in the comments below!
Photo by freedigitalphotos.net.
Popular search terms for this article:
Powered by Article Dashboard words beginning with, Powered by Article Dashboard popular internet search terms, Powered by Article Dashboard business plan samples, Powered by Article Dashboard employee performance accountability, Powered by Article Dashboard card reader, Powered by Article Dashboard performance based management, Powered by Article Dashboard performance based interview, Powered by Article Dashboard team logo