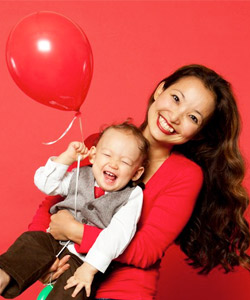 Hi Work Awesome!
My name is Tina Su. That's me on the right. The little smiling boy I'm holding is my son, Ryan.
I'm the proud new owner here on Work Awesome. I just wanted to spend a moment to say hello and to introduce myself.
I am a writer, a photographer and a mom. I live in Seattle with my husband Jeremy, our son Ryan and our fluffy dog Tommy. I am Canadian from Toronto. I was born in Beijing, China.
I used to work as a Software Engineer for amazon.com, and later as a User Experience Designer. Somewhere along my cubical existence at amazon, I became obsessed with the topic of happiness, productivity and personal motivation.
In 2007, I began writing on these topics, sharing the life lessons I've learned on my blog–Think Simple Now. In 2008, I left my fulltime job to focus on my blog, thus transitioning into my new career as a professional blogger and online publisher.  This is what I do today.
I am passionate about many things: helping people lead happy lives is at the top of that list. And I am extremely honored to be able to oversee the direction for Work Awesome. I really want to maintain the current publication quality, and directing it such that the site continues to be a valuable resource to help you work happily and productively.
This site is about you and I am committed to creating the best experience for you. As such, please take a minute to tell me what type of content will make you happy via this quick survey.
Click Here to Read Article …
Popular search terms for this article:
Tina su, tina su blog, SiteNews|WorkAwesome, tina su toronto writer