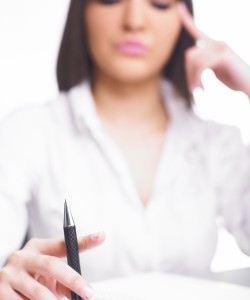 You started out at your job excited and motivated to tackle any task. Then, as years went by and the job became a little too familiar, you lost some of that drive.
This can result in your career stalling out and eventually, it leads to a sabotaged career. Before it goes too far, let's see some of the ways you may be sabotaging your career path.
Behavior that Can Sabotage Your Career
Most people put their best selves forward when looking for a job. But once that hiring process is past and they're comfortable with their new role, some may grow complacent and revert to bad habits.
Here are a few things that can keep you from advancing in your career:
1. Leaving tasks you don't like for someone else.
2. Backstabbing/gossip/placing blame. If you're the first in the office to pipe up and blame Gary for that printer mishap, coworkers and superiors will assume you'd do the same to them. The same goes for backstabbing and gossip — they're career killers.
3. Tardiness/absenteeism. You'll gain no friends at work if you're consistently late or absent — both the boss and your coworkers will resent you for it, since they'll have to cover for you while you're gone.
If you feel you're self-sabotaging your own career path, a career coach may be able to help you turnaround the situation and earn the advancements you deserve.
Reasons to Consult a Career Coach
1. The coach will be able to give you an objective opinion of where you are now, and what you need to do to jumpstart your career. She can help you set clear goals, and give you tips on reaching them.
2. A good career consultant can help motivate you by pointing out your strengths and encouraging you to act on them.
3. Your coach can help you with negotiating a raise or promotion — or with polishing up your resume if it's time to move on to a new job.
How to Hire a Career Coach
Before working with a career coach, you should ask some questions to determine whether he's a good fit for you. Find out how long he or she has been in business, and whether they have a specific job or industry they specialize in.
Be sure to ask if he or she has had any clients they were not able to help, and why. An honest answer to this question may reveal a lot about the coach's working philosophy, and whether they'll be a good fit for you.
How Much Should I Expect to Pay?
Fees for career consultants can vary widely, depending on your location and the services provided. You can expect to pay anywhere from $75 per hour, up to hundreds per hour. If the coach can show plenty of "wins" among his client list, he's worth his hourly rate.
Be careful when dealing with consulting companies that ask for large, up-front fees. If you're considering such a company, be extra careful about checking references and talking with their prior clients to make sure they're worth the price they're asking.
Many things can lead to your career hitting a plateau. Only you can decide if it's time to move on to a new position, or if you'd rather try to fix things where you are.
Either way, a good career coach can help you make the changes that will get your career back on track.
Have you worked with a career coach? How did it go?
Photo by FreeDigitalPhotos.net
Popular search terms for this article: