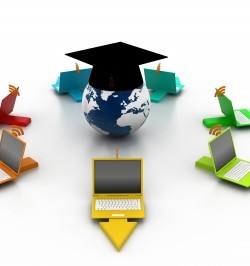 As online universities gain clout and prove their capabilities, even the most old-fashioned employers are opening up to candidates with an online degree. In fact, many of today's employers are more likely to choose candidates with an online degree as opposed to a traditional one. Here are some of the reasons why.
You've Shown Initiative
Any wise employer will value initiative highly. According to author and career success coach Andy Robinson, initiative is the trait that provides the most clear indication of growth potential and leadership abilities. While any potential employee may brag about his or her creativity and initiative in getting a job done, your degree serves as proof that you've taken the leap, done the research, and gotten yourself working every day as you pursued your education.
You Can Complete Tasks Through Written Communication
When surveyed about the skills of recent college graduates, 104 Silicon Valley employers consistently cited written communication as an area where improvement was needed. Online learning addresses this shortfall naturally. While online college courses often integrate video classrooms and other virtual learning environments, written communication remains the primary mode of connecting with professors and fellow students.
Not only have you demonstrated the ability to complete tasks based on written instructions, but you have far more experience in task-driven writing when compared with an average brick-and-mortar college graduate.
You Have a Degree from a Reputable University
While a degree from an Ivy League institution certainly has an added value, that value comes largely from the sense of familiarity employers have with the institution and its reputation.
Employers aren't likely to recognize the name or reputation of a school unless it's one of the most publicized institutions, which means a degree from a local college gives less of an advantage than a degree from a reputable online university.
You Are Experienced with Technology
In the previously mentioned survey of Silicon Valley employers, another area of concern was the ability of recent graduates to use online technologies (such as email, calendars, etc.) for professional purposes. Brick-and-mortar schools typically provide at least some exposure to these tools, but the training students receive is often sporadic and sometimes outdated. Online schools not only help students develop digital skills, but allow students to use a variety of cutting-edge utilities while gaining experience in turning their computer into a productivity tool. Further, simply choosing to attend college online demonstrates that you're a computer-savvy individual who stays at the vanguard of technology.
In a business world that's becoming increasingly digital, online degree courses are gaining greater value with each passing year. Regardless of your career path, getting an education online makes you a stand-out candidate as you connect with prospective employers.
Have you considered getting an online degree? Share your thoughts in the comments!
Photo by FreeDigitalPhotos.net
Popular search terms for this article:
Powered by Article Dashboard american general finance career, Powered by Article Dashboard american general financial, Powered by Article Dashboard career research in photography, Powered by Article Dashboard starting a business uk, Powered by Article Dashboard american general finance company, Powered by Article Dashboard definition of technology terms, Powered by Article Dashboard definitions, Powered by Article Dashboard help me buy, Powered by Article Dashboard online stock