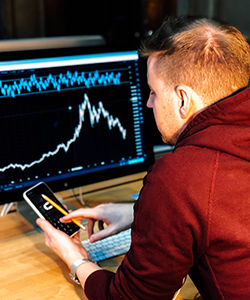 Using stock ratings, you can create your next career move, either within the company you work for or by preparing to work elsewhere.
Metrics
Metrics. That's a business buzzword. Metrics are the numbers that many live and die by, especially in a big corporation. You probably utilize it in your day-to-day business dealing for the company you work for. But have you ever thought of using the metrics of the stock ratings of the company you work for to look at how the company is doing? This information can show you how the market judges and values the company, and you can make some sound career decisions.
Set the Tone
This can set the tone for a much better working relationship and career by:
staying focused on the right priorities
communicating
avoiding surprises
meet deadlines in the right areas
If the company is doing poorly, you can help effect a change to improve your company and thereby become a more valuable employee. If the culture doesn't support any bottom-up changes, and the worst scenario is that you anticipate the demise of your company, you can start looking for a career move before it surprises you.
If the company is doing well, and you watch stock trends in your industry, you can position yourself within the company for the next big push or move and move up in the company or take a lateral move that would serve you best.
Either way, you are informed and can be proactive. You will have the means within your power to create a more satisfying career.
Although stock ratings are considered part of a powerful suite of investor tools, as an employee, you can use them to stay more informed about the corporation you are working at now, or to investigate the next company you would like to work for.
Stock market reports have a wealth of information that you can use to measure and evaluate growth. You want to be with a company that is not only growing but has a strong return and effective efficiency. You need to monitor the volatility and solvency. This can be done by reviewing the company's overall ratings.
According to the New York Times, "They [stock ratings] also describe some real and important aspects of the American economy."
But how do you, as an employee, start to look at stocks ratings to see how they affect your work, your career, and the company you work for? Stock ratings are traditional classifications of "buy, hold and sell." And in some terms, you are going to buy into your corporate culture and move up in the company, hold where you are, or sell by leaving the corporation for better prospects.
Knowing How to Read the Analysis
In order to understand analyst ratings, it is imperative to gauge their accuracy. Remember, they are a multi-dimensional rating that is created by an analyst. This can be the trickier part. Do you look at something long-term and the decline or incline? Do you look at it daily to see the trend over a shorter period of time than years? Do you look for something that analysts do, such as watching the stocks move to a position of buying? Analysts' recommendations are the amalgamation of equity research reports.
This is a tool that, in stock purchases or in business career decisions, is not an absolute. You must view it as becoming more informed about the company you work for.
Read and Define For Yourself
It's imperative that you read each rating definition and understand what the ratings mean. Pay keen attention to the time frame and any percentages the definition offers.
Don't make a hasty decision given stock analysis and ratings. What may be a red flag to an investor, may mean an opportunity for you to grow within the company.
Spend Time
Spend some time learning about the stock rating system. Look at the long history of your company compared with the mile markers of achievement or bad decisions. Look at other similar companies in your industry. Compare and contrast. Understand this is only one small tool in your career building arsenal.