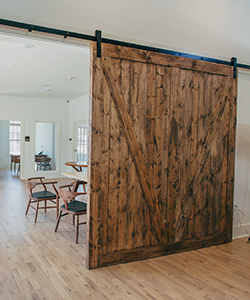 Sliding barn doors are an ideal way to add functionality and style to your house. Sliding bard doors are easy to install and can help to free up some space that would have been allocated to a conventional door. As such, many experts proclaim that they are ideal for small hallways and bathrooms. Sliding barn doors can also be used in large spaces because when they are left open they provide a seamless flow from one room to the next. In this post we'll go over some distinctive advantages you stand to gain if you install a barn door as opposed to a conventional one.
Saves Space
One of the reasons why sliding barn door hardware has been trending for the last few years is the fact that they are ideal for smaller sized rooms and apartments. A conventional door uses a swinging motion when you open the door. This can lead to damages on the wall as a result of the doorknob and they can block walkways as well. On the other hand, while barn doors require space on your wall in order for them to open correctly, they don't need a lot of floor space when you open them. Based on the fact that they lay flat on the wall when you open them, there is virtually no chance that you will damage the wall either. In some instances, opening a conventional door can block you from going into another section of your home. Barn doors slide out neatly and make it easy for you to move from one room to the next.
Vast Amount Of Designs
Unlike conventional doors that all come in similar designs, barn doors come in a vast amount of different designs that make them ideal for any king of the doorway. As a result of this feature, many homeowners used them in larger doorways that are located in the main rooms of a house. Certain kinds of barn doors can also be used to provide side-by-side openings and can be used for closets as well. And, even if an individual is limited by the amount of wall space that they have, they can use a bypass barn door to slide each door behind each other, which essentially means that they need less wall space than the standard sliding barn door.
Highly Functional
Barn doors are highly functional in the sense that they can be made from lightweight materials. This enables them to be easily opened by children and the elderly. In some instances, you may want to move out or move in furniture. These sliding doors open up all the way and give you more space to maneuver large appliances and furniture through your doorway. With a traditional door, many homeowners have to resort to removing the door from its frame to fully access their doorway to move large furniture such as couches and washing machines.
Quick and Easy Installation
Conventional doors come with complicated manuals that make you wonder if they were designed to force you to pay someone else to install it. Most reputable barn door companies provide a simple and effective manual that enables you to easily install them on your own. This is because conventional doors require strict measurements of the doorway that you plan to install it in. In most cases, if you get a conventional door, that is a few centimeters higher than your doorway, you will have to get a replacement. But since barn doors are not installed in the doorway per se, but rather over it, it doesn't matter if the doorway itself is a tad bit shorter or longer than your door.
Improve Property Value
Many people have never had the opportunity to enter a home that utilized a sliding barn door. In most cases, when they see them in person for the first time, they feel like the home is projecting an aura of luxury and style. If you plan to eventually put your home on the market, one of the ways you can ensure that your home will stand out in the minds of potential buyers is to get a sliding door. The reality of the fact is that the various styles that they consist of can project an aura of style and luxury. This in itself can increase the property value of your home.