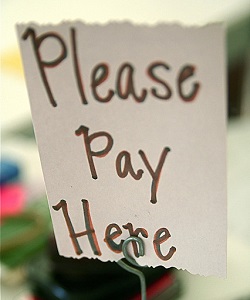 The best part of the life of a freelancer is pulling in the digital Benjamins.
Clicking that button and bringing in funds makes it all worthwhile.
If there's anything about your current payment processor that bugs you — and it may be that your business is expanding beyond this processor's capacity — here are a few payment processing tools you may consider.
These vary from simple to complex, starting with those that are good for freelancers with simple, streamlined businesses and progressing to those for entrepreneurs with a line of goods for sale online.
Venmo
It's hard to argue with simplicity, and if you're interested in a service that was designed expressly to be no fuss, no muss, check out Venmo. This is for Complexity Level 1, the humble freelancer, one whose only product is her or his talents.
Speed of Transfer: How fast can you start spending the money is a pretty big factor, right? Well, the gap from Venmo to your bank account is just one business day. If you have a roommate with a Venmo account, you can spend the money right away — paying for the electric bill, Korean takeout, etc.
Fees: Receiving money is free! I say: receiving money is free. The person paying you has to pay a fee only when using a credit card — taking it from the bank account is sans fee. You can shoot funds to anyone by using their phone number or e-mail — they don't have to have a Venmo account, and you can link up via Facebook.
Bottom line: If all you want is to send and receive money, you stealthy little boss of yourself, Venmo is the way to go. However, while you can send money to non-Venmoians, someone sending it to you will need an account, so ask your clients.
Square
You may think of Square as a credit card swiping gizmo, but there's a lot more to it than that. Square is not just for stores.
If you're doing any kind of person-to-person business, having the portable swiping machine that is a component of the Square system is not a bad idea. Also, Square does accept online payments.
However, if you have a pretty serious business running, possibly selling a line of products or running a pretty good-sized website, Square has plenty of options. It will set up an online store for you, provide an invoicing service, inventory management and analytics.
Fees: Sign up is free, with no contracts. Using the portable reader costs 2.75% per swipe.
Customization: Square's homepage gives you a chance to choose the sort of business you're in, whether it be professional services, home and repair, beauty professional, etc.
Bottom Line: Square is great if you're interested in some of its ancillary features. In terms of accepting payments, it's best if you're all about credit cards.
HyperWALLET
We don't mean to alienate the global movers and shakers among you. And that's where HyperWALLET comes in. Think of it as the payment processor for those for whom other processors fall flat. If you have special and complex needs, this one very well could be for you.
Make or Receive Payments: HyperWALLET is good for businesses that pay for supplies or have other B2B needs. You can deposit into your HyperWALLET account for any payments you may have to send or use a prepaid card. Not only that, but HW has solutions expressly for people in affiliate programs, including mobile apps.
Global Accessibility: HyperWALLET works with 34 currencies in 63 countries. It works with banks in 40 nations.
Mobility: It works with Apple Passbook and Android, with SMS text messaging payment commands. Of course it also has multi-lingual interfaces.
Bottom Line: This is not for a graphic designer or writer with clients mostly in her own nation. But if you want real-time payments and plenty of options with multi-national business, HyperWALLET may be one of your best options.
—
The digital world has made freelancing easier. Making the money, paying for services and managing clients can be easy as well, if you've got the right payment processor.
(Photo by Steven Depolo / CC BY)