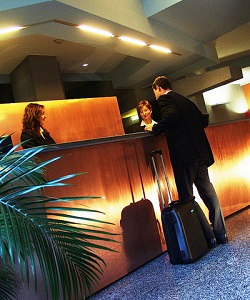 The biggest pro of being your own boss is just that — not being a cog in the machine.
Just about the only time this is a con is when travel comes up.
That machine often pays your travel expenses when you're on a short overnight trip.
You're going to have to go it on your own as a freelancer, but there are ways to save money and make it as painless as possible.
After all, when you decided to strike out on your own, one of the things you signed on for was the satisfaction of finding creative ways to make things work for you. Here are some very creative ways to work the hotel system and keep the Benjamins in your pocket.
1. Sleuth The Best Rates
This is what the information age is all about: Here's a great example of knowledge being power. BetterBidding.com and similar websites give you the capability of finding actual prices that recent guests have paid at hotels and motels.
This means, of course, calling the hotels these people have chosen and inquiring as to how to achieve the lowest prices, if they're not standard.
2. Last-Minute Bookings
There's a lot more play in hotel prices than a lot of people realize. It's a lot like airfare in that way. You can save money as reservations get canceled and prices drop.
Apps such as HotelTonight show you available rooms at a set time each day, say 11 a.m. or noon. You then book your low rate, and even though you're booking on the same day, you can book the room for as many nights as you'd wish.
3. Avoid the Big Chains
When you go to some of the biggest travel sites, you get the hotels that can afford to list on them and pay commissions. It's important to look beyond these to smaller hotels, which often charge lower fees.
You can find some of them on sites like TripAdvisor. From there, rather than booking on the Internet, contact the hotel directly. If you can speak to a manager, ask for a discount.
4. Rewards Programs
I'm talking to you, credit card holders. Many credit cards will give you reward points just for spending.
Check with yours to see if it's included, or find any rewards programs you can. Many do not require any initial stay.
5. Stay Outside the Box
What is a hotel anyway? A place along your route where you can stay a night? These days, just about every category is expanding, and that's true of lodging as well.
Just as there are pop up restaurants, deliveries made by freelancing college kids on bikes and coffee mugs wrought from 3D printers, hotels are now taking on forms different from the old-fashioned.
These days, everyday people are renting out rooms for the night or renting out a place while they're away, in a sort of time-share arrangement. Websites like airbnb.com can help set up lodge and lodger, and in many cases, your rates will be lower than with traditional hotels.
That's often because there's so little overhead, and in some cases, people are trying to make a statement by offering their accommodations at very kind rates.
—
There are many options for you if you're trying to cut down on travel expenses. It just takes the ingenuity that has made you a freelancer in the first place.