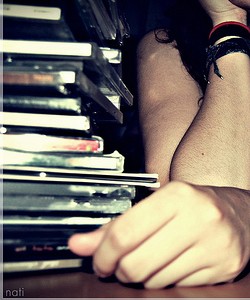 Call me odd, but I find that I struggle with two things that most people find easy.  One is picking a topic for a blog post and the other is choosing music to help keep me dancing in my seat. So when I saw Susan's music playlist, I figured I could share mine. Once I've got a topic and some good tunes blasting, time has a way of sinking into the words on the page.  Next thing I know, it's time for dinner.
I've been trying to find out if there's a connection between the tunes I choose and the level of productivity I achieve. The playlist that's been helping me get closer to hitting the deadlines has an eclectic mix of tunes.  See for yourself, but don't judge me.
Me and Bobby McGee, Janis Joplin – Classic tune, great sound, and an easy way to get things rolling.
Coward of the County, Kenny Rogers – I like songs that are a story, and this one is currently doing it for me.  Probably won't be on your playlist, but for now, it's on mine.
Devil Went Down to Georgia, Charlie Daniels – Just one of those songs that I can hear over and over again.  It's odd, sounds great, and is basically happy.  So it's just like me, except it sounds great.
Big Yellow Taxi, Counting Crows – They may have paved paradise to put up a parking lot, but it costs a lot more than a dollar and a half to see it now.  Another song done by a ton of artists, but I think this version is the smoothest and saddest.
I Wanna Be Sedated, Ramones – It's not that I wanna be sedated, but this is a great song to get me moving.
Blister in the Sun, Violent Femmes – First time I heard it was in the opening of Grosse Pointe Blank.  Loved it then, love it now.  Maybe it's just because I love to strut my stuff.
You Sexy Thing, Hot Chocolate – Just a funky tune that helps to break things up from the harder stuff.  And who doesn't love being called a sexy thing while wearing fuzzy pink bunny slippers?  Freelance life is great.
Stuck in the Middle with You, Stealers Wheel – For some reason, this song makes me want to cover my ears, but it's not because of the sound.  Heard Michael Madsen say something funny once, "Kids run up to me because of Free Willy; parents don't let them because of Reservoir Dogs."
Turn the Page, Metallica – I like the original as well, but the Metallica version of this is outstanding.  The attitude and contempt in his voice comes through clearly, but maybe that's just the same old cliché.
Saturday Nights Alright for Fighting, Elton John – I've heard this one covered by a bunch of great bands, but I like the original best.  If I need something a bit harder, the Kid Rock/Nickelback version is pretty good.
Paradise City, Guns n' Roses – This one's always good for a "pick me up."  Reminds me of being 17, cruising around in my yellow Pontiac firebird.  So sad, yet 100% true.  The memory, not the song.
Shaking Hands, Nickelback – As much as I pretend to hate them, these Canadian boys know how to string a few verses together.  They had me at "diggin' for gold."
Burn It to the Ground, Nickelback – Did I mention that I try very hard to pretend to hate these guys?  But this song is pretty great at getting me fired up.  I give them an eleven.  And, our family motto is "fistful of whiskey."
Back in Black, AC/DC – OK, one of my other playlists is all AC/DC.  Got to see them in concert a little while ago, and hands down the best concert ever.  My ears are still ringing, but it was worth it.
Snow White, Streetheart – The classic story of the good girl doing bad things.  No, not Lindsay Lohan.  I said "good girl".
You might have noticed a few things.  Apparently, I watch too many movies and it looks like I've got multiple personalities.
The voices in my head agree with you.
(Image courtesy of [nati] under a Creative Commons Attribution 2.0 generic license.)
Popular search terms for this article:
theoddone playlist, theoddone music playlist, theoddone pandora