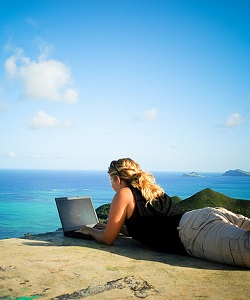 More and more companies are letting their employees work from where they want to.
In other words, they are working remotely.
One of the best examples and success stories of a remote team is Buffer.
They built a strong culture of remote work within their company.
If you are considering building a remote team, I recommend that you read this post from Buffer founder: The Joys and Benefits of Working as a Distributed Team.
But working as a remote team can sometimes be tricky. In fact your team needs the right tools and techniques to make it work.
In my startup Azendoo, the team is spread between Bordeaux and Paris.Besides that, we also work with our ambassadors who are all over the world. So here is a list of the tools that we use and that you might find useful.
1. Communicate Smartly
Skype is by far the best tool for talking to people, mostly because everyone has Skype! In some ways, it has even become a common word (like Kleenex) and every day we talk about planning Skype calls.
With Skype you can hold group calls (or chats), share your screen and send documents. It simplifies group work and helps remote teams to make better decisions.
We also use UberConference when we have important demo to do with very specific clients. But this is not a daily thing.
2. Synchronize Your Team
To be efficient you need to synchronize your calendars to be sure that everyone has the same info. You can use Sunrise. When adding a new meeting, this calendar app will let you choose any time zone and you can also add any of your teammates' calendars, so you can know when and where they are at any given time.
Sunrise is Google Calendar only better and simpler. It offers you a clean interface, which is very important when you have a calendar full of meetings.
3. Manage Your Time
When working with a team that is spread around the world, one of the hardest things is knowing what time it is in their area. The app EverytimeZone uses your local time to tell you what time it is in another city, in one single click.
No need to count -9h or +3h … this application is doing all the work for you!
4. Collaborate on Documents
Google Documents is the most powerful tool for teams who are working together on the same document. You can follow the revision history and discuss in real time, all in one single version of the document! It's even useful for teams working in the same office!
You can also use Box to store and collaborate on documents, but as it is less used it might be harder for you to get everyone onboard.
5. Share your Ideas
To capture your ideas, a web page, a document or an email you can use Evernote. In some ways, it works as your external brain.
Evernote Business will take you even further, because it lets you share that information with your team members. Plus, you can also collaborate on your notebooks (which function like folders) to keep all your team info in one single place.
6. Send Anything to Anyone
When you work remotely you sometimes need to send huge files to your team, like videos or presentations. Emails often don't support such large document sizes.
Try Infinit.io or Yousend.it to send huge files. The applications basically do the same thing, except the sharing process is a little different.
7. Gather Your Teamwork in One Place
Now that you have the tools to improve your remote teamwork, using one application to regroup all your information in one place and to discuss and organize the things you have to do can be helpful.
A task manager like Azendoo will let you share your documents (Google docs, Evernote etc.), communicate (write messages or launch Skype calls) and manage your tasks and agendas. There's a presence indicator that let's you know who is online and who is not. You can follow your teammates' work easily.
—
Nowadays there is no limit to using remote work within your team. There are so many applications out there to communicate and organize that people don't necessarily need to be together in the same place to work together all the time.
But one important thing is to set rules from the beginning. Even if people are not physically in the office they need to be available as if they were, otherwise you might spend your time looking for your coworkers who are working remotely instead of getting work done!
(Photo by Citrix Online/ CC BY)