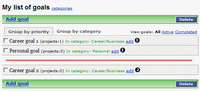 It seems like every day there's a new task management app for a new productivity system. GTD Agenda breaks out of that mold by making a task management app that can be used for multiple productivity methods.
In fact, my absolute favorite thing about GTD Agenda is that in addition to the standard tour and features page, they have pages dedicated to how you can use GTDAgenda for different productivity systems (GTD, The 7 Habits and Highly Effective People, and Zen to Done) and different activities (the gym, school, and software development).
GTDAgenda allows you to easily break up your work across Goals, Projects, and Tasks. In addition, you add Contexts to your Tasks and label tasks as Next Options. There's also checklists, schedules, and a calendar.
Dashboard
The Dashboard isn't the prettiest thing I've ever seen, but it's comprehensive. First and foremost, when you login, you see your Next Actions and have the option of grouping them by Priority, Project or Context. On the right-hand side, you have your Calendar. Then underneath your Calendar, you have a box of your Contexts. Underneath that, your Projects.
This setup makes it super-easy for you to have an idea of what's due when, what to do next, and enables you to quickly pick a task to work on.
gtdagenda review, gtdagenda, gtd agenda, gtdagenda reviews, GTD Software reviews, gtd software, gtd software review, gtd agenda review, agenda gtd, b-folders review