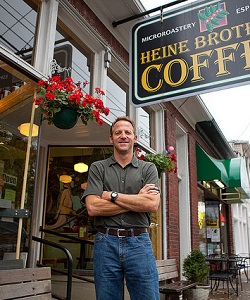 Back in the old days, businesses might have been able to survive solely thanks to a decent shop sign and local trade.
But now business behemoths and chain stores are cropping up everywhere and cutting out the little guys.
Even if the product or service you're selling is absolutely incredible, it can be a challenge to get the recognition you deserve in order to sustain and grow your small business.
No matter what your trade is, small businesses must adopt these trends in order to survive.
1. Branding
Branding is everything: It's the first impression, the message you want to communicate to your customers and your platform for growth. A mediocre sign could be the difference between a bustling trade and zero customers.
Consumers have been trained to expect beautiful, engaging and innovative branding, so your business has to stand out. It has to accurately convey what you're selling as well as the way you're selling it.
Many small business owners say that they can't afford to do branding, but really they can't afford not to. Sixty percent of consumers prefer to buy new products from a familiar brand rather than switch to a new brand. Creating a recognizable, consistent and attractive brand is the first step to small business success.
2. Going Digital
While there's certainly been a resurgence of interest in shopping local, hoping that passers-by will pop into your shop probably isn't going to be enough to secure a generous profit margin. Getting your name out there online is essential.
For those of us who aren't web-savvy, this can seem like a daunting task, but a website is an absolute must for all businesses. Fortunately, you can hire a web design team to get you set up with a basic template.
For those who feel up to the challenge, there are plenty of DIY guides available. Getting the basics right is essential for a successful website. Remember that the better your website is, the longer users will browse and the more customers you'll have.
3. Being Social
Putting your small business on the web is one thing, but actually getting people to visit your site is a whole different ball game. The emphasis here is very much on using social media as a way to engage with your target consumers and promote your brand and business.
Google My Business gets your business listed on Google Maps, searches and helps potential customers find the location of your store or service. When it comes to other social media platforms, different approaches benefit different businesses.
If you run a salon, then using Pinterest to pin beautiful styles could attract customers. On the other hand, if you're a painter and decorator, a Facebook page can be a friendly way to engage with customers and post information about your projects.
4. Investing in Software
Running a small business means that often certain responsibilities, such as HR tasks, are delegated among other employees. For example, an admin worker may be involved managing staff holidays.
While this might work well short-term, small businesses usually find that delegating these tasks to employees who have other responsibilities results in lower productivity and increased stress. A good way to get around this without breaking the bank is to use online software to lighten the load.
Small businesses can invest in accounting software to record invoices and track payments, HR software which monitors staff sickness and plans staff leave, and even online training programs to improve your staff's skills.
5. Outsourcing
There's no doubt that small business software can make your life a whole lot easier, but as your business begins to grow you may need to consider outsourcing. The freelance industry is growing rapidly, and many businesses are realizing the advantages of outsourcing project-based work to professionals who have the skills and knowledge they need.
Outsourcing can keep costs low while ensuring projects are done quickly and efficiently by skilled workers, leaving business owners and in-house employees to focus on the core business. Human resources, public relations and admin work are the most commonly outsourced services.
—
What trends do you think would help small businesses?
(Photo by Independent We Stand / CC BY)