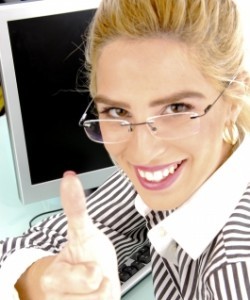 Freelance writing can be a tough career track to follow. In addition to seeking out work, a successful journalist, copywriter, or blogger has a list of expectations they must excel at, from creating clean prose to meeting deadlines to pitching creative new ideas.
In today's business world, more and more professionals in any line of work are opting to go freelance, taking their career destiny into their own hands. Although you can never be laid off when you're self-employed, the decision increases the pressure to keep the work flowing at a high quality level.
Many of the same rules that apply to a successful freelance writer can apply to any line of work. Just as keeping an editor happy will assure a writer of more assignments, a bookkeeper, landscaper, or graphic designer can benefit from the same guidelines. When the person supervising (or editing) your work is happy, you'll be more likely to continue finding work and make more money doing it. Here are some tips to make your editor's life easier:
Get On the Same Page
When a writer turns in an assignment, they'll be in far better shape if what they're handing to the editor meets that person's expectations. Unless you've been working with another person for years and they completely trust your output, clarify exactly what they expect to receive from you.
For example, a corporate photographer assigned to take 20 pictures of a new hotel might not be hired again if they turn in a set of beautiful portraits of employees around the building, but not the simple shots of the rooms that the client had expected. Take the time to discuss your work before beginning to assure that expectations are understood clearly and specifically.
Don't Be Late
Deadlines are everything to the success of a freelance writer. Even if you hand in a masterpiece, your hard work will quickly be overlooked if it's late. Remember how submitting an essay a day late in high school and college could result in the loss of an entire letter grade? Think of your professional work just the same. If you realize that a deadline will be difficult to meet, let your client know far in advance of the potential issue.
Converse During the Process
Editors want to be involved. Let's think about college again — wasn't it the students who took the time to meet professors during their office hours that ultimately seemed to fare the best at the end of the semester? Treat being hired for a task as a relationship.
If you're pressure-washing a house and you notice that one side of the home is experiencing more mildew than another and could use a stronger cleaner, inform your client during the process. Because when changes to a job (especially those that incur an added expense) are sprung upon someone after a task is done, they're more likely to suspect dishonesty. Keep them in the loop at all times.
Be Easy to Reach (and Fast to Respond)
It's easy for writers to be frustrated by their editors — they rush to meet a deadline, only to discover that the editor waits a week to read the work. The editor, on their own deadline, then sends an email with detailed questions about the piece that need action and answers by 5 pm that day. Take a breath and respond immediately! First of all, by following step 3, you're less likely to have last minute surprises.
When follow-up work does arise, be responsive — the last impression you make on a client could be the one they tell their peers about. Web designers come to mind with this rule — once you complete a site, your work is never done. It's how you handle the follow-up requests that will determine whether or not you receive recommendations for future work.
Be Clear (But Not a Hassle) About Getting Paid
Before taking a job, it's important for both parties to understand how and when payment will be received. If you're on the receiving end of any freelance gig, be willing to allow a tiny bit of wiggle room. Freelance writers, perhaps more than any other profession, are accustomed to waiting months after a publishing date to get paid.
Handle your personal finances in a way that doesn't leave you desperately waiting for a check to arrive in the mail. If you don't have any savings, it may be wise to put a few months' expenses aside before making the jump to freelance, or finding a consistent part-time job until you're able to do that. It's important to trust that you will be paid, and not to sour an otherwise excellent relationship by establishing a reputation as a real hassle about collecting your money.
How do you make your editor's life easier? Have any stories to share?
Image by FreeDigitalPhotos.net.