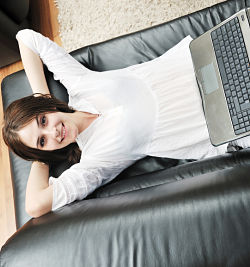 When I jumped headfirst into the world of freelance writing, learning how to get more freelance work was the most daunting task I had. I compiled a list of job boards I would check on a daily basis, but what I quickly learned was that my search couldn't start and end there.
After several hits and misses, I began realizing that landing gigs in the freelance world relied on my ability to be unconventional, and my willingness to do a few things for free before pulling in a paycheck.
Here are tips I have created based on my own experience as a freelance writer:
Tip #1 – Guest blog.
One of the best ways to get eyes on your work is by writing for websites that already have a substantial following.
Guest blog for sites that allow you to put a bio and links to your other projects or websites. These may not be paying gigs initially, but they provide you with more links to your writing, a chance to build relationships with other people in the business, new readers to follow your work and the ability to increase your expertise in the area of your choosing.
Be picky and do your research. Use tools like those offered on Alexa.com to determine what a websites ranking is and whether writing for them will be worth your time.
Tip #2 – Don't just rely on job boards.
Job boards are a great place to start, but they don't always have an abundance of high-paying freelance gigs.
When it looks like the well has run dry, try seeking out the websites or publications you want to work for and pitch to them. Offer them links to your work and explain what you can offer them.
Not everyone posts their open jobs in a visible spot online, and sometimes they don't even know they need a freelance writer like you — so it's up to you to seek them out.
Tip #3 – Start your own website.
Every single freelance job I have ever been offered has been over the phone or through email — I haven't had one in-person interview. This means I don't hand over a freshly printed resume or typed-up list of everything I can offer. Instead, I direct them to my website.
Even if you aren't incredibly tech savvy, you can still build a website that highlights all of your skills and offers links to your writing samples using the templates found on sites like WordPress.com in order to get more freelance writing work.
Tip #4 – Be visible on social media sites.
Most (successful) online companies already have an established social media presence, but freelancers look more attractive to them if they have the ability to market their writing through their own social networking channels.
Being an active social media websites also signals to a company that you are up on trends and you are aware of what people might be looking for — a key when it comes to writing effectively for the web.
Another thing to note about being active on social media sites: Some companies will post freelance opportunities on their own facebook or twitter accounts before they put them up on third-party job boards, so it might make sense to start your search there.
Tip #5 – Don't discount having a day job.
I started a freelance writing career right out of college and I swore I would never work full-time for anyone else (clearly the freedom of a freelance writing career is hard to beat). But when I finally did branch out and accept a job as a community manager for a local newspaper, I was able to network and form relationships that have helped my freelance work substantially.
Sometimes working for another company can afford you the luxury of working solely for yourself down the road — after all, sometimes the best freelance jobs are found simply through word-of-mouth, but those relationships have to be formed first.
Tip #6 – Become an expert.
There are tons of great writers out there, but not everyone is an expert on money matters or relationships or solar energy.
Set yourself apart by becoming an expert on something you enjoy writing about and going after freelance gigs that will allow you to showcase your knowledge. This will put you one step above other writers while also ensuring your profits aren't cut short by tacking on hours of research to each project.
What other tips do you use to get more freelance writing work?
Photo by .shock.
Popular search terms for this article:
Powered by Article Dashboard job bank, Powered by Article Dashboard work from home jobs, Powered by Article Dashboard freelance photography, Powered by Article Dashboard freelance jobs in photography, how to get freelance writing work, Powered by Article Dashboard free employment application form, Powered by Article Dashboard small business credit card application, Powered by Article Dashboard business credit card application, Powered by Article Dashboard career information for photography, Powered by Article Dashboard definition of terms for information technology