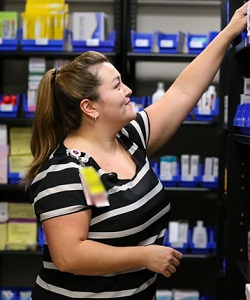 If you're seeking a challenging, fast-paced career in a field that's expected to grow by 20 percent from 2012-2022, then it may be a good idea to look into pharmacy technician training programs.
When you consider that the average lifespan is increasing all over the world, and better medication is playing a big part, the need for well-trained technicians should only increase.
Pharmacy technicians enjoy great variety in their day-to-day work life by serving customers, communicating with physicians' offices, performing several administrative tasks and working hands-on with all sorts of medicine.
In this article we'll look into the important factors to consider when deciding on the pharmacy technician training program for you.
Desired Training or Curriculum
Some aspiring pharmacy technicians are fortunate enough to find hands-on training or job shadowing via a doctor's office or other clinical setting. Though for most people, a structured school training program is the best way to get familiar with both the hands-on and theoretical approaches related to pharmacology.
Aspiring pharmacy technicians should experience hands-on training in modern laboratories, take in lectures from seasoned professionals, learn the latest pharmacy management software and use all the current technical equipment found in professional labs everywhere.
Arguably, the biggest benefit of a curriculum should be the practicum or externship that reinforces concepts and techniques in a real-world work environment.
Does it Fit Your Lifestyle?
How much time can you devote to your education? Do you work in the afternoon and thus need to take night classes?
Are you needing an accelerated program or one spread out over a longer period of time? These are important questions to ask when looking into pharmacy technician training programs.
Is It Accredited? 
Receiving training from an accredited pharmacy technician training program, such as Arizona College, is essential to entering this rapidly developing field. By choosing an unaccredited program, you may not obtain the knowledge and confidence required to pass the certification exam or get your licensing.
Is Financial Aid Available?
Even though the field of pharmacy is growing and pharmacy technicians have high placement rates, school isn't cheap. Don't dig yourself into a hole before your career even begins. Plenty of schools offer a variety of financial aid options depending on your situation and current income.
How Does Certification Work?
Each program or school may vary slightly in terms of timeline, but once you finish your coursework, you'll be able to get your Trainee License. This license allows you to participate in your externship.
After completing a clinical externship, you'll be able to take Pharmacy Technician Certification Exam (PTCE) administered through the Pharmacy Technician Certification Board (PTCB). Of course, it's always a good idea to look into specific requirements in the state you plan to go to school and/or work in.
Photo by Army Medicine / CC BY