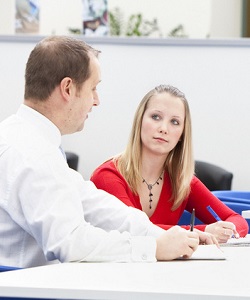 Work environments create strange bedfellows, bringing people together from all walks of life.
And while individual job roles are clearly delineated, the whole team is essentially working on the same project — keeping the organization viable.
As a result, harmony is essential for maximizing productivity and keeping job satisfaction high.
Given the diverse representation in the workforce and the wide range of personalities striving to accomplish organizational goals, conflict between workers arises as a natural part of doing business.
The keys to successful operational management and maintaining peak output is resolving conflict in productive ways.
Developing positive relationships with coworkers and supervisors makes your job easier in the long run and keeps you on track with the rest of the team. When in doubt, use these proven approaches to avoid conflict with your boss.
1. Empathize with His or Her Position
Every employee is subject to demands and directives handed-down from superiors — including your boss. And though your responsibilities are different, you and your direct supervisors share some of the same concerns on the job.
To maintain a positive relationship with your boss, empathize with his or her position, rather than pointing out differences between your job and your boss'. Though employees need to protect their own interests as well, there is nothing wrong with letting your boss know you understand some of the strains he or she faces.
2. Be a Team Player
Managers are charged with maximizing productivity among team members, so when work assignments seem unreasonable, it is simply your boss doing his or her job.
To avoid conflict and stand out as a good employee, commit to the team and maintain flexibility achieving organizational goals. Even when extra hours or added responsibilities are piled-on to your workload, respond with a team mentality and approach.
3. Make the Most of Resources
Despite their roles as motivators, bosses work with limited resources. To illustrate your high level of commitment and stay in good graces with your boss, squeeze the most out of available resources.
It isn't necessarily bad to ask for additional resources when productivity is at stake, but placing unnecessary demands on your boss leads to friction and conflict, which can be awkward to resolve.
On the other hand, generating high output with available resources impacts the bottom line in a positive way and sets the stage for smooth sailing within the employment hierarchy.
4. Take Your Time
To the extent it's possible, fully reflecting before making on-the-job decisions leads to better outcomes. And though time is at a premium, due diligence is essential for negotiating and implementing business solutions.
Acting in haste, on the other hand, often leaves one party or the other feeling slighted. To maintain stable relationships with your bosses, analyze each situation as it presents, seeking collaboration with coworkers and superiors.
Remain flexible to compromise and be the one who gets things done, rather than the squeaky wheel.
5. Communicate Effectively
Communication is at the heart of business relationships, so sharing ideas effectively is essential to being understood within your organization. More often than not, when conflict arises between managers and staff, there is a communication issue at hand.
Especially in today's marketplace, where communications are primarily electronic, it is imperative to nurture efficient communication between staff members at all levels.
You are your best advocate setting up a workable approach, so take a proactive stance facilitating effective communication with your boss.
—
Whenever people interact, there is potential for conflict to arise. Work relationships in particular, are subject to clashes based on diverse backgrounds and competing points of view.
Avoiding conflict with your boss requires a team approach, effective communication and empathy for your boss's position. By making the most of resources and compromising for the greater good, you'll enjoy the best possible relationships with coworkers — including your boss.
(Photo by Highways Agency / CC BY)