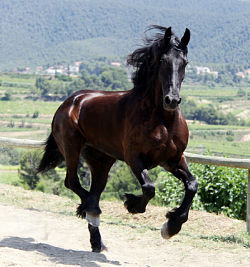 They gave me the most stubborn horse in the whole ranch. His name was Ben. And Ben was a big, beautiful, brown and white horse. At the time, I never thought Ben would teach me so much about networking.
After we set off into the foothills of the Rocky Mountains for a two-hour trail ride, I quickly realized that Ben was more than a handful for a novice rider like me. And so I learned a few new things about riding a horse. . .
. . . And a few valuable lessons about professional networking.
1. Never Make Assumptions About People
I looked at Ben and assumed, "he's such a beautiful horse, this is going to be easy." I was dead wrong. He was stubborn and very strong. The rancher leading our ride also trained Ben. There was a history there that I knew nothing about. And his advice on how to handle Ben came too late.
When you are networking with people, it's very easy to look at how they are dressed or what they look like and think you know who they are. Like Ben and his rancher, everyone has a story, and unless you ask, you don't know that story. In one of my networking groups, there is one guy who made his first million when he was 21. He wears t-shirts and sandals. If you met him at a networking event, what would you think?
2. Be Curious, Not Afraid
If I had known Ben's story and how the rancher really loved him, I may have been better prepared for the ride. I failed to ask questions. Maybe I was trying to be macho or pretend like I knew how to handle a horse. But I missed an opportunity to learn something interesting. Ben's trainer can't whistle. So all of his commands are variations of certain sounds. If I had asked about this, my ride would have been much smoother.
When you are out networking and meeting new people, change your frame of mind from fear (of looking stupid, inexperienced, fill-in-the-blank) to pure, child-like curiosity about the other person. Generally, when you show genuine interest in someone else, they will feel it, and reciprocate with genuine interest in you. Just ask.
3. Don't Be Afraid to Steer
When I first tried to steer Ben, my kicks and pulls were hesitant and timid. By the time I figured out how hard I needed to kick in order to steer him, it was too late. When you are chatting with new people at networking events, don't be afraid to guide the conversation assertively right from the beginning.
No, I don't mean kicking people or being a bully. Simply this: the questions you ask people will guide their thoughts. And their thoughts will precede what they say. Use questions like the reigns of a horse's saddle. Be the one asking the questions. And be the one who listens.
—
What tricks do you apply when you network with peers? Share your Networking tips in comments.
Photo by visualpanic.
Popular search terms for this article: