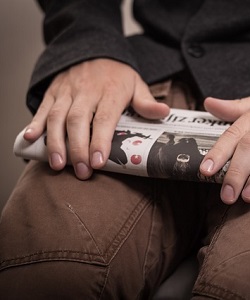 Companies once reached their audience by saying, "Buy Arco pancake mix. It makes good pancakes."
And then came television commercials that promoted a lifestyle.
Then there was complex marketing research.
By the time Web 2.0 came along, the marketing intelligentsia on various brands tended to feel that any traditional advertising was a thing of the past and that telling a story was the way to reach people.
That is what brand journalism is all about, and it opens doors for freelance writers.
What is Brand Journalism?
A writer who works in brand journalism contracts with a company to tell that company's story. The journalist might research stories about the company's philanthropic efforts, about the problems in the industry that the company aims to solve, etc.
It's about communicating the brand's philosophy, and as such, isn't explicit advertising. One isn't expressly trying to sell anything in this form of writing. And like any other kind of writing being done today, it is open to freelancers in addition to in-house employees.
Creative Storytelling
Let's look at a couple of examples from Microsoft. First is a profile of the company's director of accessibility. Here, the journalist found a major motif in the woman's handling of a disability. It's about finding the story.
In this feature, the writer has created the infrastructure for a choose-your-own-adventure story that allows for interaction and allows Microsoft to tell its story. In this way, the company needs abundant creativity, a knack for narrative and all the other basic writing skills a writer will bring to the table.
These are all highly defined skills that are at a premium. They allow a writer to really show her or his skills and to fulfill a need.
A Growing Industry?
A story on Firehead, a digital marketing website, said that as of fall 2013, only about 300 people on LinkedIn (as just one index) listed themselves as "brand journalists" or "corporate reporters." The group for brand journalism, at that time, had 1,500 members.
This seems to refer to people who are hired in-house, meaning that freelance opportunities still abound. Whether you'd like freelance brand marketing to lead to an in-house gig or not, the work is out there, though you probably have to go find it.
In any event, more and more businesses are seeing the need to tell stories. And while the term is "brand journalism," it certainly doesn't require experience in news reporting.
A marketing background, experience blogging for companies, creative writing chops and any demonstrated ability to write well for a wide audience can give you a fighting chance of breaking in.
Pros and Cons
The niche of brand journalism isn't without its controversy. Some writers have qualms about it because it seems like veiled marketing; coy, disguised advertising; etc. Some people simply heard too many flannel-clad Generation Xers disparaging anything "corporate" throughout the '90s to be excited by this kind of work.
But as the Microsoft examples show, in most cases, brand journalism is presented very clearly as coming from the company and being about and for the company. It says, "Let us tell you our story," hoping people will want to read it, even if it comes from some commercial entity.
You might feel that brand journalism is hack work or some lesser form of journalism than traditional journalism. You'll get a lot of agreement from … traditional journalists. The work you'd be doing won't involve interrogating feisty politicians or visiting crime scenes. You don't have to be balanced in the same way as a traditional journalist.
Well-known marketer Joe Pulizzi says of brand journalism, "If that content is transparent in terms of source and agenda, then it's real. Whether or not it's "journalism' is not really important."
So if you're looking to broaden your range of freelance writing, think about brand marketing.
(Photo by niekverlaan / CC BY)