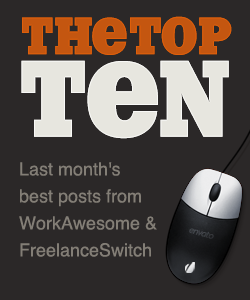 Each month we round up the best posts from WorkAwesome and FreelanceSwitch so that you can catch up on anything awesome you might have missed. Pay extra attention to the
Global Freelancers Survey
–with only a few days left, the clock is ticking on the opportunity to win an iPad and prizes from MOO Business Cards and the Envato Marketplaces!
FreelanceSwitch
Photography blogs can be great ways to funnel new visitors and potential clients to your photography work. I've been photoblogging for almost three years. Here are seven things that I've learned…
One of the joys of having your own business is that you get to set the standards. And if you're interested in getting paid, I'd advise you to start setting them as soon as possible.
It's easy to come to the conclusion that any ambitious freelancer is looking to get out of the freelancing game. But the fact of the matter is that there are plenty of freelancers in it for the long haul. Freelancing isn't just a way to pay the bills — it's a career path.
I've been working with an online virtual assistant for almost a year now. My current virtual assistant is a whiz at getting repetitive tasks off my desk and letting me focus on the creative work my clients pay me the big bucks for. If you've got a growing freelance practice, a virtual assistant may be able to help you handle the work load. These tasks are all relatively easy for virtual assistants to take on, letting you focus on landing and completing projects that pay.
This survey aims to compile our collective knowledge for the benefit of freelancers everywhere! The 2007 survey rendered great results with input from over 3,000 participants, but we need help to update it! By taking part in the Global Freelancer Survey you will not only receive a copy of the results, but will also be entered to win a grand prize package which includes prizes from MOO cards, Envato Marketplaces, and a 32GB Apple iPad!
WorkAwesome
How to Get Motivated in the Morning
Does it take you longer than you'd like (or require) to get going at the start of your day? Oleg Morkhov offers some ideas on how to get some spring in your step first thing so you can make the most of your morning.
How Do You Know When It's Time to Quit Your Job?
There used to be a time when one would stick with a job for years upon years. Those days are over – new opportunities pop up more often than ever before and goals and objectives are more likely to change for the average worker. But how do you know when your time at an employer has come? WorkAwesome regular contributor Susan Johnston discusses ways to determine when that moment arrives.
Why You Should Think Twice Before Sending Angry Email
Sometimes emotions get the better of us. A client or coworker sends you an email that drives you over the edge. But before you draft up a nasty response, take a look at why Melanie Brooks concludes that you should think twice before pressing "send".
Your email is out of control, isn't it? Perhaps it might not be right now, but there's always that chance unless you've got a method of handling your inbox on an ongoing basis. Joshua Riddle breaks down the basics of managing your email that you can put into practice today.
Are You Rewarding Yourself through Procrastination?
This article by Richard Newman suggests that procrastinating may actually be a reward to yourself – and that not all rewards add up to positive results.