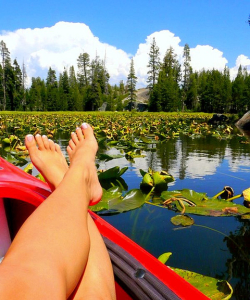 Have you ever noticed this? Sitting in the confines of the office stifles creativity and productivity. So the next time you want to be more productive, go on vacation. Just explain to your boss that you will be working remotely, and book the next flight to Los Cabos. All you need to pack is your smartphone and laptop.
Start your work day immediately, while driving to the airport.  Dexterously answer calls while stuck in traffic.  At the airport terminal, settle in with a Starbucks coffee and read email messages.
5 Ways to Stay Productive by Working Remotely
Here are some cool tips and tools you can utilize while you're working at a vacation:
Sign Documents with the Vignature app
If you get an email message requesting your signature, sign electronically with the Vignatureapp for iOS or Android OS.  The app allows for you to open a PDF attachment, and "tap to sign."
Pay for internet access and keep on working during the flight – you did fly Virgin Airlines, didn't you?
Record your thoughts with Evernote
Check into a hotel with internet access.  Politely decline the complimentary (alcohol-laced) welcome beverage.  Instead, go on a beach walk and take your smartphone.  The exercise and fresh air will stimulate your mind.  Brainstorm as you walk, vocalize your thoughts, and record them with the Evernote app.
Organize your thoughts with Toodledo
Back in the room, play your Evernote clips, and begin the task of organizing your thoughts into actionable items.  The Toodledo app can help.  It provides you with a way to create tasks, prioritize them, and organize them into folders.
Conduct remote meetings with GoTo Meeting or Skype
If a meeting is on your to-do list, sign up for a free trial of GoTo Meeting, and invite guests to join you online.  You can even share your computer screen with guests.  Or, meet by Skype and share your stunning ocean view.
Collaborate with Dropbox
If collaborating on a file is on your to-do list, make sure you have Dropbox.  Imagine having a file cabinet at your office, your co-worker's office, and one that is tethered to you – and that all of the contents in the file cabinets are updated with the latest files, and they are easy to find.  That is what it is like to have Dropbox installed on your devices.  It makes file sharing easy.
Take a break
Hungry?  Take a break and feast on a high-protein meal.  For instance, try fresh local red snapper rubbed with chili, garlic, fine herbs and roasted tomatoes (at Maria Corona).
Before you retire for the day, clear your mind with a dip in the pool. Get a good night's sleep knowing that you have had a productive day.
Know before you go
All of the abovementioned tools have free versions.  Many of the apps work from multiple devices.  Go ahead and install them on all of your devices before you go.
—
How do you go about working remotely? Got tips to share?
Image by *~Dawn~* via Flickr.
Popular search terms for this article: