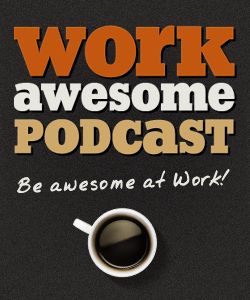 Today marks the launch of our latest enhancement to the WorkAwesome site: the WorkAwesome podcast.
This weekly podcast will feature tips and tricks, motivation and inspiration, reviews and interviews – and much more. Hosted by yours truly, WorkAwesome editor Mike Vardy, the aim of the podcast is to bring you some of the things we're doing at WorkAwesome in a different context – and with additional content to boot.
Our inaugural podcast features an interview with Jonathan Mead, best known for his website Illuminated Mind. Not only was he kind enough to share his take on doing awesome work, but he offered our WorkAwesome faithful a chance to win a free enrollment to his Paid to Exist program. To win, you need to leave a comment answering the following:
"What you would create or do if you had the ultimate freedom to do so?"
We'll compile all the comments and draw one lucky winner to be announced here at WorkAwesome on Monday November 22.
As always, we want to know what you'd like to see in the WorkAwesome podcast – share your thoughts with us below as well. We'll be sure to announce when the podcast shows up in iTunes — we're still waiting on that. Follow us on Twitter and our Facebook page and you'll be brought up to speed when we go live.
Enjoy the podcast!
[powerpress url="http://workawesome.podbean.com/mf/web/qnm5q/Episode1_JonathanMead.mp3″]
Subscribe to the podcast
Play in podcast in new window
UPDATE: You can now subscribe to the podcast in iTunes here.
Popular search terms for this article: