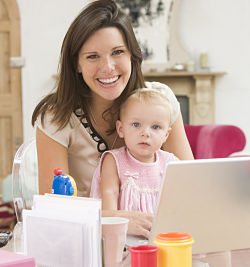 Have you come across the burden of balancing it all as a working mom? I am referring to the burden and guilt trip we give ourselves each day over our attempt and quite often failure to balance all aspects (working mom, caretaker, professional, student, friend etc.) of our lives.  I call it the Balance Burden and, truly, I spent my first year- and- a -half of motherhood often riddled with guilt because I couldn't seem to juggle it all.
It wasn't until the birth of my second daughter (18 months after my first) that I finally threw my hands up and admitted defeat.  With the slow realization and acceptance that balance was unattainable came a sudden relief, and the mommy baggage was quickly lifted off my five- foot, two- inch frame. 
In the days (specifically 20 months) since becoming a mom of two amazing, extremely energetic, and willful little girls, I have learned a few things about the best approaches for me to manage my multiple roles. I learned most of these lessons come the hard way. Read, coming home from work stressed about an undone project, only to be a bit cranky and short-tempered with my family followed by a sleepless night feeling downright crummy for not being a better worker, spouse, and namely mom.
But since then I've tried and erred and discovered that these five tips which work for me:
Create a priorities list and re-evaluate it monthly
Take stock of what you value and write it down. Make choices on how you spend your time based on that priorities list.  This list can change as your work goals change, seasons pass (take it from a Californian living in the Midwest, summer outdoor adventures are a must) and kids' extracurricular activities and hobbies change.
Take charge of your schedule
I, for one, have been notoriously terrible at saying no. Just ask the professional association that asked me to be a board member and waited for weeks for my reply. I am learning, slowly, the art, beauty, and necessity in saying no.  Decline requests that don't fit into your priorities list. Say no kindly but firmly and embrace the freedom of having something off of your plate.
Give your kids uninterrupted time
When I initially went back to full-time work after working part-time for two years, I would walk in the door at the end of the work day and be greeted with a cluster of hellos, cries, questions, "mommy, I need" etc. I tried to manage it all by tending to my girls' needs while inquiring about my husband's day, and making dinner all at the same time. How did that work? Terribly. Usually one of the girls threw a tantrum and I felt more stressed than ever. Now, when I come home, I stop and sit with both daughters for 30 minutes playing, reading, dancing, doing whatever they choose. After this time devoted to them, I then think about dinner, pick up toys, or chat with my husband.
Give yourself me time
Ok. So I am no pro at this. I write it because I know that when I make time for myself I feel like a better mom. I'm kinder, more patient, in general, I feel like me. I just don't put it into practice nearly as much as I should. One piece of advice I received not too long ago was to put it on the calendar. If my Outlook calendar says yoga, well then, I am more likely to pull out my mat and work on my yoga warrior pose.
Stop comparing
This is one that is really deeper than the work/life balance issue. Really, it is about embracing and accepting who we are as women, mothers, and professionals. Unfortunately, girls are taught at a young age to compare themselves to the females around them, from the classmate with the better math test grade to the supermodel on the cover of the tween magazines. This self-comparison carries itself into motherhood and we are constantly contrasting our mothering skills with those of the stay-at-home mom down the street, or the VP who seems to have it all. Stop it.  Embrace yourself in all your glories and flaws. Your kids, your spouse, your boss only want you and no one different.
What balancing tips do you have for working moms?
Photo by monkeybusiness.
Popular search terms for this article:
Powered by Article Dashboard wholesale art prints, Powered by Article Dashboard part time jobs, Powered by Article Dashboard short stories to read online, Powered by Article Dashboard mothers day art projects, Powered by Article Dashboard working it out, Powered by Article Dashboard family medicine, Powered by Article Dashboard back to school tips, Powered by Article Dashboard life in, Powered by Article Dashboard my health, Powered by Article Dashboard my life