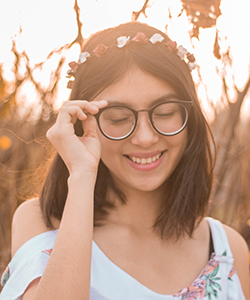 If you decide to wear glasses, you're in good company. Eyeglasses have been around for centuries. Historians believe that they were first made in Pisa, Italy, around 1290.
While most people wear glasses to correct their vision, there are many other motives to wear them, too.  Let's look at a few reasons why you might decide to wear glasses.
Choosing Glasses to Protect Your Eyes
Every year millions of Americans injure their eyes in the workplace when they don' wear safety glasses. If you need to work in an area with airborne particles, fuels, fumes, vapors, or chemicals, be sure to wear safety glasses.
If you happen to wear prescription glasses, then choose to wear prescription safety glasses. These not only protect your eyes while improving visibility, but they also make you look good. If you don't have the time to go to an optician, you can always shop for glasses online.
Selecting Glassed to Correct Your Vision
If a distant object, like a sign you see when you're driving, appears blurry, then you're nearsighted or myopic. Since the image you see is focused on the front of your retina, you need concave lenses to correct your vision.
If, on the other hand, objects look fuzzy up close, say, when you're reading a label on a jar, you're farsighted or hyperopic. Since the image you see is focused behind your retina, you'll need convex lenses to correct your vision.
Picking Glasses to Look Smart
If you want to look smart to get ahead in life, perhaps to seem geekier in college or to be taken more seriously at your professional job, then don't resort to using big words and flowery language. This is such an obvious ploy to grab attention that it usually fails to impress. But something you may want to try is to wear non-prescription glasses.
Since glasses were first invented, poor eyesight has been associated with someone who reads too much under poor lighting. It's the proverbial story of the bookworm burning the midnight oil. Since thick-framed black glasses trigger a stereotype boost, use this positive bias to your advantage.
Wearing Glasses to Make a Fashion Statement 
Non-prescription glasses are also used by people who want to make a fashion statement. But unlike glasses worn to impress people in school or at work, fashion glasses serve a different purpose—they're used as a light-hearted way to express one's idiosyncratic personality.
Since wearing glasses for a flippant purpose is fun, you can wear different frames every single day. The rule of thumb is to be bold, colorful, and outrageous. So, consider wearing purple cat eye frames, periwinkle blue lightweight glasses, and stern tortoiseshell patterns. You might even want to try on some Apple green aviators to mix things up a little.
Accessorizing with Glasses to Protect Eyes from Sun Damage
Although you know that some sunshine is good for your skin while too much can cause skin damage, did you know that too much sunshine can also damage your eyes?
Although often considered as a fashion accessory, sunglasses help shield your eyes from ultraviolet (UV) rays. So, protect your eyes by buying wraparound sunglasses that block UVA and UVB radiation.
Excessive exposure to UV can cause serious eye problems like cataracts, macular degeneration, or pterygium. Cataracts are caused by the lens of the eyes clouding, macular degeneration is caused by damage to the retina, and pterygium is caused when tissue growth over the white surface of the eye alters the curve of the eyeball, resulting in astigmatism.
How to Choose the Best Glasses for Your Needs
While selecting the right lens will enhance your vision, choosing the right frame will enhance your appearance.
First, decide on the features you want in a frame. For instance, frames vary by material (hypoallergenic vs. plain), by weight, color, durability, and price.
Next, choose frames based on the lens you need. If you're myopic, you can choose any frame or size because your lenses will be thicker toward the edges. But if you're hyperopic, the lenses will be thicker toward the middle, so avoid thin or rimless frames and choose smaller, sturdier frames.
Finally, choose frames based on the shape of your face. The type of frame you choose should match the shape of your face. After identifying the shape of your face (round, oblong, etc.), select the frame that works with its features and proportions.