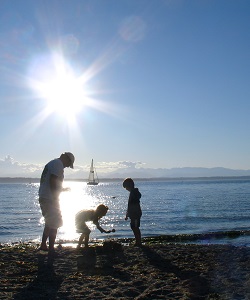 It's easy to get caught up in your work life and neglect your home life.
"Just half an hour more," is a regular saying for anyone pushing deadlines, but what is this doing to your health?
Work-related stress accounts for 40 percent of all workplace illness, so remembering to separate your work life and home life has never been so important.
Here are eight tips for staying happy and healthy within the workplace.
1. Leave Your Desk for Lunch
Leaving your desk might not seem like a big change to your working routine, but stretching your legs away from the office helps you disassociate from your workload. You won't be tempted to check your emails in between bites and you won't be bogged down by the stressful working environment.
Make sure you also eat a healthy lunch at work. Binging on junk food will only give you a short burst of energy and a serious sugar headache afterwards. Try to eat food that will give you a continuous supply of energy throughout the day.
Upon your return to the office you'll notice a big difference in your attitude towards the rest of your shift. You'll feel energised to tackle the rest of your work and you'll feel more refreshed.
2. Make Time for Exercise
If you find yourself coming home from work in a mood and taking it out on those around you, you might want to consider joining the gym. Regular exercise will benefit both your mind and body.
Aside from the obvious physical benefits, exercise will help to relieve stress and boost your mood.
The benefits also have an effect on your attitude toward work. Occasional exercise could make you 50 percent less likely to feel low levels of productivity.
3. Turn Off Your Work Phone
Once the office hours are finished, switch your phone off. Don't take your work home with you, as it will only get in the way of your home life.
Although you should make yourself flexible for your job, you shouldn't be expected to work overtime once you've finished the working day. This should motivate you to prioritize scheduled calls during the day.
Turning your phone off lets you disconnect from working life and gives you time to relax with friends and family. Don't let calls and texts come between important events and personal time.
4. Get a Good Night's Sleep
Don't stay up late checking emails and finishing assignments — it's statistically not worth it! Learn to prioritize tasks during office hours instead of bringing your workload home.
Getting a good night's sleep will be much more beneficial as you'll be able to tackle your work in the morning with a clear head. If you're up late at night working, you're more likely to make errors in your documents, and your work will be of poor quality.
Turning up to work sleep-deprived can lead to arguments with your colleagues. A lack of sleep can make you short-tempered and anxious, which could potentially make you boil over in the work place.
5. Curb Your Cravings
Studies show those who smoke are 28 percent more likely to suffer from a drop in productivity than those who do not. If you're craving substances such as nicotine and caffeine, your performance at work will suffer.
Your mind will be more focused on fueling your habit rather than the task at hand. Try to curb your cravings so that you don't get distracted in the workplace. You'll notice a difference in your concentration levels at work, but you'll also benefit from the new healthier lifestyle at home.
6. Share the Workload
Building a good working relationship has its benefits. You'll have colleagues you can rely on to help share your workload during busy periods and absences. Instead of worrying when you take time off work, you'll have work friends that you can trust to keep up the high standard of work while you're gone.
You can also outsource work if necessary to focus on more important tasks. Outsourcing means you can share the workload without having to hire and train new staff, which can be costly and time consuming.
7. Plan in Advance
Make sure you have an effective system for booking time off work. Booking last minute could cause clashes between colleagues, and your assignments could start to build up.
Planning in advance gives you the chance to notify clients and staff so that they can prepare for your absence. It will also give you something to look forward to and motivate you to get tasks done in time.
8. Work From Home
Instead of spending your morning commuting to work, you could be at home already checking your emails and starting on assignments. Working from home means that you can escape the distractions of the office and knuckle down on your deadlines.
It also gives you a chance to stay with family at important times. For example, if you give a helping hand with childcare, you can work from home to make sure you're around when necessary.
—
Taking time to focus on both your work life and your home life will make you a happier, healthier and productive person. What tips do you have for maintaining work-life balance?
Sources:
http://www.hse.gov.uk/STATISTICS/causdis/stress/index.htm
http://www.businessnewsdaily.com/2963-healthy-diet-impacts-productivity.html