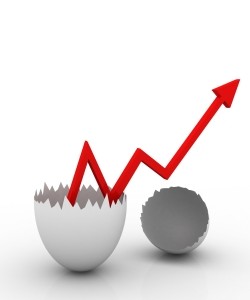 Are you just getting a business off the ground? If so, it's hard to think about putting money into intangibles like advertising to get the word out about your company. With all the expenses of opening shop, hiring employees, satisfying local codes, and so forth, the calls from local newspapers and media imploring you to spend with them can feel like an obnoxious distraction.
Even if you're a well-established business, the constant pressure to market yourself can feel overwhelming. How do you decide where those dollars are best spent, reaching the maximum number of potential customers and clients for the least amount of capital?
Fortunately, there are plenty of low-cost, in-house options for businesses of any size to market themselves, that don't require carving out a sizeable chunk of your operating budget to launch and maintain. If you're trying to get the word out on a serious budget, follow these useful guidelines:
1. Collect contact information
When you place an ad on the radio or in a magazine or newspaper, you're shooting relatively blindly, hoping that some portion of the readership will be attracted to your company. The people that walk into your store or browse across your website, however, have already expressed an interest. These are the folks you should be marketing to most directly.
If you have a physical location, offer an incentive for people to leave their email, phone number, or address. Promise them (honestly) not to spam them or share the information, and coax them into supplying it with a generous discount or freebie. Likewise, an online coupon available by supplying an email address can accomplish the same goal.
2. E-newsletters
With contacts in hand, put them to use with a monthly e-newsletter. The key here is to make it worth reading. Give a discount or deal that's too good to pass up. Think about Groupon — their initial success was based on the sheer enormity of the bargains — 50 percent off!
Be willing to do the same, but cut out the 'daily deal' middleman, to your own advantage. If someone is willing to give you their contact information and read your outreach, make it worth their time.
Of course, pepper your e-newsletter with relevant information and interesting articles, but make sure that some sort of money-saving coupon, available only to e-newsletter recipients, is included. You'll soon see repeat business, and they'll forward your newsletter to their friends, who will sign up in turn.
3. Text coupons
People are understandably hesitant to give out their phone numbers. Texts are the fastest growing method of spam right now. At the same time, they're also one of the most effective marketing tools. We're accustomed to glazing over and quickly deleting emails to calm our inboxes, but we still look at every text that hits our phone.
If you're going to send text alerts for deals, you have to make it worth it. This isn't negotiable — offer 50 percent off or buy one get one free on anything you send a text about. Otherwise you'll have disgruntled former customers sending you angry replies. The text coupon walks a fine line. Make it worth receiving, and customers will look forward to hearing from you.
4. Social Media
There are scores of websites devoted entirely to how to market yourselves through social media, but to boil it into a few lines: be relevant, be worthwhile, be engaging, be witty. With social media, don't think in terms of traditional advertising. This isn't a glossy page in a magazine.
Think of every post as the opening line of a conversation, where you expect someone to reply to you. In turn, reply back to them.
There's a reason that newspaper and print media are suffering and losing ad sales, and it has everything to do with Facebook, Twitter, and Pinterest. Use them to your advantage by creating a following of people that want to converse with you and your brand.
5. Loyalty Apps
Remember the 'buy 7 get one free' sandwich cards? That concept has come to the smartphone, and for retail businesses it's one of the most effective marketing means available. Best of all, many of the services allow businesses to track consumers' spending habits, allowing targeted marketing via all the aforementioned methods of advertising.
Among the most prominent loyalty app systems are Belly (which lets users scan a QR code on their smartphone into an iPad at the store's physical location) and Perka, which lets users check in via GPS and get their 'punch card' stamped by the business.
Even for some non-retail outlets, points can be awarded via these apps for spreading the word about a company online via shares, pins, and tags. Just make sure that the rewards you offer for point redemption are worthwhile and you'll soon have a growing street team of promoters for your business.
What shoestring marketing methods have you tried to get the word out about your company? Which brought you the most visible success?
Photo by FreeDigitalPhotos.net.
Popular search terms for this article:
Powered by Article Dashboard free internet advertising marketing, Powered by Article Dashboard types of communication medium, Powered by Article Dashboard success of internet marketing companies, Powered by Article Dashboard online publicity, Powered by Article Dashboard best internet advertising