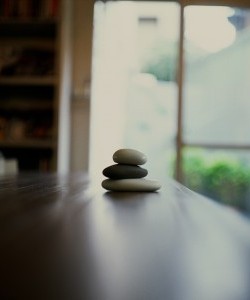 In today's "hustle and bustle"world, it is getting more difficult to separate our professional lives from our personal time. People in this era (more than in any other time before) find themselves taking work home and spending late hours on their laptops. Most of these hard workers justify their misplaced time with their large salaries. However, they fail to see the costs of such a distorted work-life balance.
Family and friendships are negatively affected when you take the time that you once used to play with your family or hang out with your friends and repurpose it for work. The increased stress levels and lack of rest can have a terrible impact on your health and personal well-being. Here are some ways you can start working towards creating a more balanced life — and you can start them right away.
1. Create personal balance by deciding what is important to you.
Before it is possible to bring balance to your work and personal life, you need to make up your mind as far as your priorities are concerned. Is it your family or your work? If you are not able to immediately and honestly make this decision, you can try the following simple exercise. Try staying away from both aspects of your life continuously for at least a couple of days. Maybe you should go away for a few days all by yourself to make this easier. The thing that you miss more during that time is the area of your life that is most important to you. You should focus more of your attention on that area; the area of your life that is most important to you.
Your overall goals and purpose should reflect your priorities. You should be working towards something that will bring you satisfaction and joy. You should do what is important and meaningful. So take the time to figure out exactly what your priorities are.

2. Create a balanced life by doing what is important and leaving the rest alone.
Regardless of whether your priorities focus on work or home, you must begin weeding out the senseless tasks that do not directly relate to your overall goals and priorities. You can do this by making a list of activities and tasks required for both home and office and rate them in order of importance. Ask yourself, does the task or activity relate to your goals and objectives, which are not important, and which activities would you have a hard time living without? This kind of differentiation and identification will help you concentrate on the important parts of your life, adding a little more space to your personal and professional lives.
3. Create life balance by remaining grateful for your family.
It is easy to forget that your family is along for the ride, even when it comes to your career. Some of you might even think two or three times before taking a personal day in order to spend some quality time with the family. It is easy to take them for granted, to see only the work that comes with the relationships with your spouse and children. Ask yourself if taking the kids to a soccer game is a chore or a pleasure. Are you able to enjoy sitting down and watching a family movie or do you constantly glance down at the laptop or phone in your hand wishing you could be somewhere else doing something else? These are sobering questions. However, you need to come up with the answers if you truly want to create balance between your work and personal lives.
Try turning the computer and cell phone off while spending time with the family. Take a vacation with the time you have earned through all your hard work. Whatever you decide to do, do it will all your focus and energy. Your family deserves to be the center of attention whenever you are spending time with them. Leave work out of family time.
4. Create balance through relaxation.
Many people have misplaced the age-old practice of doing absolutely nothing. This is probably the most forgotten aspect of creating balance in your personal life. Being task oriented is not necessarily a bad thing. However if you are spending all your time doing something from your list, you are never taking time to just relax. The result is a very tired, ineffective, and overworked you.
You can change this by practicing some or all of the following relaxation strategies.
Take up yoga. You can find all the instruction necessary on the web.
Practice breathing exercises to restore peace. Just relax, close your eyes, and take a deep breath in through your nose and out through the mouth. This can be done anywhere at any time.
Take naps when you have time. Or, make time for naps.
Kick back and watch a kid's movie with the kids. They will love it and you can relax for a little while
Obviously, there are many ways to relax. The important thing is just relax.
5. Create balance by seeking solutions to problems that are hindering balance.
There comes a time in everybody's life where their best efforts just do not produce the desired results. You may find yourself stressed and stretched even though you have been working hard to produce balance in your life. You have turned of the computers and cell phone when with family. You are working whole-heartedly on professional work while at the office. These can be very frustrating times.
In closing…
Do not fret. Success never comes without hard work and perseverance. A wise man once wrote that we are made perfect through suffering. Creating balance is a learned experience in life. Your personal journey will take you to heights of satisfaction, where everything seems to come together and it will also take you through the valleys, where even the most productive people in the world are unproductive. The trick is to stay focused on the solution and continuing in your course of action. There is a lot of information out their regarding the solution. Get a book or find a friend who has achieved a sense of balance and start seeking answers. Whatever you do, do not give up; if you forge ahead you will create a balanced life.
(Image courtesy of woooody under a Creative Commons Attribution-NonCommercial-NoDerivs 2.0 generic license.)
Popular search terms for this article:
balanced life, balance, creating balance in your life, creating a balanced life, importance of balance in life, how to create a balanced life, steps to a balanced life, creating balance in life, a balanced life, creating a balanced lifestyle