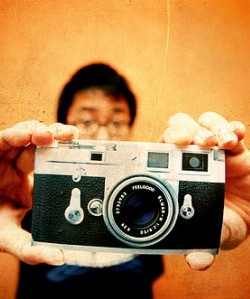 While Adobe Photoshop is pretty much the standard software for the photo industry, you don't need to go out and buy it for yourself if you want to manipulate your own images—especially if you're not a professional photographer. There are handfuls of free and online photo editing software out there floating around the world wide web to choose from. I've created a short list of some of the best below.
Aviary Image Editor. This is the poor man's solution to the Adobe creative suite. Aviary is good if you don't want to download anything. You can upload and edit your photos online, which is great when you want to edit photos when you're on someone else's computer. Plus you don't take up room on your hard drive, which is always a bonus.
GIMP. This image editing software must be downloaded onto your computer—either a Mac or a PC. The interface looks a lot like Adobe Photoshop, making it one of the most popular open-source photo editors out there. Plus the website has lots of information on how to use the product for those of you who need a little hand holding.
PhotoScape. This is an easy program that you must download  on your computer to run. It's so easy a monkey could use it. Or my mom. It allows you to do all sorts of things besides the simple cropping, resizing, color correcting, and changing your color photos to black and white. You can also add funny balloons, use cool filters (my favorite is the vignetting filter), and adding frames.
Photo Pos Pro. This picture editing software used to sell for about $60—but now it's free! It has a cool interface and seems to be targeting the more advanced photo editor. From their website: "If you are an experienced user,you will probably be amazed to discover the infinite possibilities which the program has to offer in the fields of Digital Image Enhancement and Computer Graphics. Advanced users will discover advanced editing and creating possibilities; they will find all they need to work in an efficient manner in the professional Help system which comes with the program." Depending on your skill level, this might—or might not—be the perfect product for you.
What do you think? Is there an online, free or open-source photo editor out there that you particularly like?
(Image courtesy of Shermeee under a Creative Commons 2.0 license.)
Popular search terms for this article:
photo editing online free professional, online photo editing software, photo editing software online, photo editing software free online, photo editing programs online, online photo editing software free, free photo editing software online, online photo making software, online photo editing, free online photo editing software