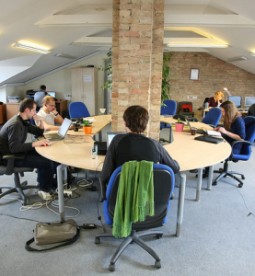 Editor's note: This is a continuation of the 2-part series. You can read Part I here.
How to Find a Coworking Space
Try coworking portals and directories for the widest selection possible. Accessible on the web or through a mobile phone app, these directories help you to search not only available standalone coworking spaces, but also dynamic small companies offering shared workspaces and open desks. This gives you more options for finding a spot to work, especially if your city or town doesn't offer a coworking space. Think of it as matchmaking.
Our favorite directories for finding shared space include:
Loosecubes: Loosecubes connects members with an empty desk, studio or sofa with other members who need a productive and inspiring place to work. Whether you are looking for coworking companions by the day or longer term neighbors by the month, Loosecubes makes it easy to find the right people to share your space with. A cool feature we like: You can connect your account to Facebook to get recommendations for great workspace based on your social connections.
In an interview with us for Working in the UnOffice: A Guide to Coworking, community manager Anna Thomas said that services like theirs help spread the values of coworking throughout the system, letting businesses turn "their empty desks into business-building assets — generating revenue by renting their extra space and energizing their workplaces by bringing in new talent and expertise." The process is aptly called, "Loosecubing". By opening up their spaces to other different startups and a host of freelancers, companies that share "build connections that can lead to job opportunities, partnerships, referrals, and friendships."
Anna describes how they set themselves apart from other competing search portals: "We place the emphasis on the people in the spaces. For us, the most powerful thing about coworking isn't the beautiful office, great coffee, or fast Wi-Fi— it's the person sitting next to you that could become your colleague, business partner, friend, or even someone special. Our goal is to connect people through workspaces, as opposed to hooking someone up with office amenities when they need them." Loosecubes has since grown to become a global workspace-sharing community with nearly 2,000 spaces around the world.
Deskwanted: Features desks and office spaces around the globe, particularly covering Europe. Type in your preferred city and select the lease length and it gives you a list of available spaces in that area, with the address and cost. Deskwanted is connected with Deskmag, an online publication that covers issues related to innovative workplaces and new ways of working. It focuses on a coworking space and the new breed of independent workers and small companies that work there. Check out their "Tools and Tips" section for great coworking advice.
Desktime: A space directory covering Austin, Chicago, and New York. "We're trying to change the way people use their workspace, giving people the ability to work from their apartment one afternoon and a bad ass office in the heart of the city the next," their website says. Offers a directory app that lets users find shared workspaces on their iPhone or Android phone.
Share Your Office: This comprehensive worldwide directory is run by pariSoma Innovation Loft and aims to "connect together professionals with a common interest in sharing their offices". It's free to search and to post an ad. Also offered as a mobile app that lets users find shared workspaces on their smartphones.
WorkSnug: An augmented reality app for your smartphone that lets you view surroundings of various coworking spaces, coffee shops, and provides details on noise levels, Wi-Fi availability, and access to meeting rooms.
Open Office Space: Find everything from a shared desk to your standard executive suite and cubicle. Narrow down your search by specifying your budget and the "property type" you're looking for— from "office" to "industrial" spaces. This site emphasizes form and function over community.
Coworking Wiki: Not only does the Coworking Wiki give a background on everything coworking, it also has a directory of various coworking spaces by country.
And what if there aren't any coworking spaces near you?
You can start your own! Or, at the very least, organize a Jelly. A Jelly is an informal gathering in someone's home, a coffee shop or borrowed office, where people work together independently. It's like a coworking set-up without the permanent address.
***
Coworking's promise for today's creator, thinker, worker, and employee is an ambitious one. It claims to help us harness innovation, as well as to unite the laptop-toting telecommuters and independent businesses and organizations out there into a cohesive but fluid community. Such diverse communities under one roof can create thriving places to work.
What has your experience with a coworking space been like?
Photo by mdanys.
Popular search terms for this article: